Ocean, the boutique outdoor media owner, has launched The Two Towers East after winning a competitive tender from Tower Hamlets Council.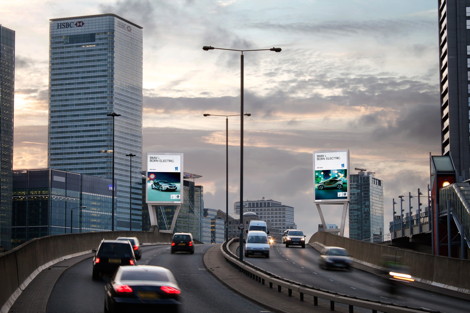 The iconic advertising structures, which are located in the shadow of Canary Wharf, are designed to target high net worth employees working in London's financial district. BMW has secured The Two Towers as the launch commercial advertiser.
The GBP 1 million digital advertising structures are an exact replica of the award-winning Two Towers West which are located on the premium route from Heathrow Airport to London's West End.
Richard Malton, Marketing Director, Ocean Outdoor told us "The Two Towers East have their own clear proposition in the market place, but the synergy between The Two Towers West and East is clear. We are now able to create one of the strongest sales propositions afforded by any combination of digital sites in Europe, dominating both the Western and Eastern routes into London,"
The Two Towers East command an equally prestigious position at the gateway of Canary Wharf, The City of London and London's exclusive City Airport.
Tim Bleakley, Ocean CEO said "The Two Towers East present advertisers with an opportunity that was previously missing in East London. It is fitting that Tower Hamlets has a prestigious advertising offering that reflects the inward investment that has been attracted to the area. The location of these sites is absolutely critical for top tier brands wanting to communicate with a high value audience and the location for the Olympics is perfect."