Technology giant IBM has expanded its 'Smarter City' campaign to Manchester Airport (MAN) using the Interactive Monster Wall, an intelligent digital signage display from Monster Media in partnership with EYE, owner of a large permanent interactive digital network placed in airports across the UK.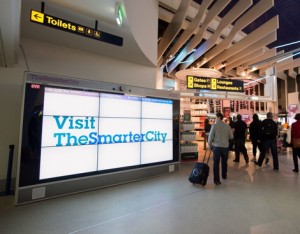 The installation is part of IBM's 'Smarter City' campaign, which was created by the Ogilvy group to educate travelers on IBM principles and innovations designed to drive sustainable growth and prosperity in urban communities. The Interactive Monster Wall combines gesture based recognition and multi-touch technologies to allow travelers to navigate aerially through a virtual 'Smart City.'Travelers can stop at various buildings along the way to learn about IBM innovations in transportation, public safety, education, healthcare and more through video, text and interviews shown on the screen.
"This is a great opportunity for IBM to showcase its ideas around Smarter City technology," said John Rankin, general manager at EYE. "The passenger interacts with the creative giving the consumer the choice to experience content that is most relevant to them, making the campaign more impactful and meaningful."
The Monster Wall exemplifies leading edge digital out-of-home strategy as harnessed by IBM through the combination of gesture activated, multi-touch, audio and video calls to action. The unit is also equipped with an analytics and tracking system that measures direct user engagement down to each display and trigger, giving IBM and their agency the ability to calculate a concrete ROI for the campaign.
 "This campaign not only demonstrates IBM's commitment to innovation in developing 'instrumented, interconnected and intelligent' eco-systems, but also showcases the power of interactive digital in the OOH space and how strategically harnessing its power results in an engaging brand message," said Liam Boyle, managing director of Monster Media.