Russ Curry, Ministry of New Media
Anyone who cares about Marks & Spencer will still be cursing the Belgian idiot who got rid of their two stores in Paris a couple of years ago. The smaller one was in the urban-chic Marais district and did a roaring trade selling soggy white sandwiches to Parisian office workers who wanted to savour the English experience. The other magnificent building was aggressively positioned in the heart of the department store zone – right in front of Galeries Lafayette and right next to C&A. That was a real flagship store – now its Galeries Lafayette Home Decorations – which makes me think that maybe the Belgian was planted there by the French.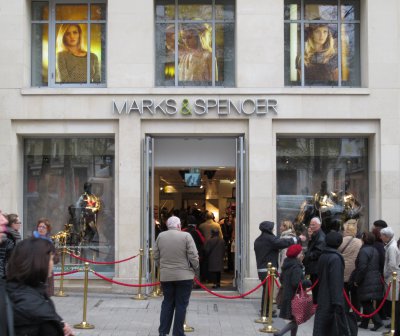 Why not? The latest conspiracy theory here is that DSK was framed by the nice folks at Sofitel, who happen to be little Nicholas's buddies – so anything is possible. Both of these shops were important in my life – the only local source of proper tea. Now it's (just) a Eurostar ride away, but at GBP 300 there and back it makes a mug of builder's tea a bit pricey – out of reach of the average working man at least…but I digress.
I'm here on a wet and windy Champs Elysees because the Editor-in-Chief sent me to check out the screens in the new M&S store on this famous street.
In day time it's full of tourists – at night time it's the haunt of knife-carrying thugs from the suburbs who take the commuter train into town for a bundle. I reach my destination and see an orderly queue bending its way through elegant dark red ropes. A bit early for the Queen discotheque, I thought – but no, this is actually for the M&S shop next store– what a great marketing gimmick! Roll over Steve Jobs – this is not even a new product launch!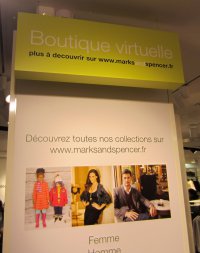 But after 10 minutes when I get inside, I realize that its simply good security practice – the 'Flagship' is actually miniscule – more of a tugboat I'd say. To be fair, no one told me it was a flagship, but that was indeed what I expected. So I fight my way through the crowds looking for the screens. What I do see is mirrors, cunningly trying to convince me that the shop is bigger than it really is – which might also explain the apparent crowds – but then there's another security check blocking the entrance to the Food Hall – which is really where I wanted to go. Upstairs is the Ladies department, which always interests me, and downstairs is Lingerie – even more interesting but with my camera I might get mistaken for a dirty old man, so I stay on the ground floor.
And there I see it – the Virtual Store – and the penny drops. This is M&S getting back at eBay with their pop-up store on Tottenham Court Road. It's the same thing backwards – a big retailer drags people into what looks like an ordinary shop so that they can sell them online stuff. Another marketing masterstroke!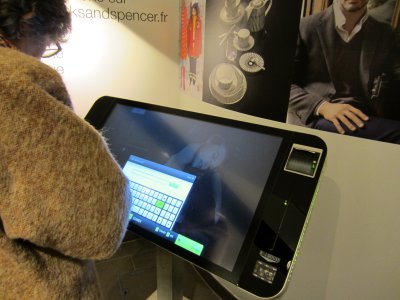 The touch-screen looks good from a distance, but I can't get too close since it seems quite popular, even with the wrinklies!