Shoppers of both Westfield London and Westfield Stratford City Centres, are in for a treat at this year's Santa grotto. Westfield and Irish digital media company vStream  have developed what they call a 5D Christmas grotto experience.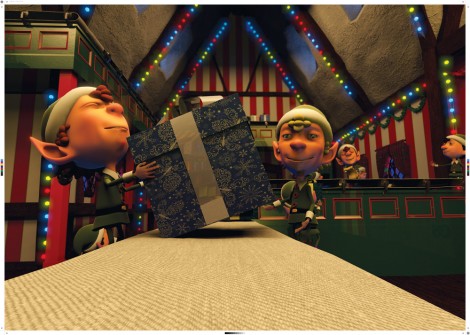 The experience consists of a 3D cartoon animation movie, called 'Elbow Saves Christmas' inside Santa's grotto which incorporates a fourth dimension of wind, lights and elf dust. The extra dimension is achieved by personalising the visit where by each child in the audience is featured in the film.
The tale is about 'Elbow the Elf', who saves Christmas. Photos of the children present in the grotto are displayed throughout the story as an integral part of the narrative.
The entire experience has been conceived and produced by vStream using their patent-pending Mirror 3D Personalisation Software and in-house writers, software developers and animators. A team of five animators, four developers, a producer and a writer/director were involved in the final production, along with support staff. The seven minute animation, represents a contract value of approximately €200,000 for the Irish digital media company.
Commenting on the development of the 5D Christmas animation, company co-founder Andrew Jenkinson said, "It has been an amazing journey from concept through to animation to final delivery. Westfield will be using our patent-pending technology and we could not have a better client or project to launch it! We hope Elbow the Elf will have many more adventures in the years to come… the moon has been mentioned!" 
Myf Ryan, Marketing General Manager for Westfield said: "Westfield is always looking for new and innovative events and we are delighted to have the worlds first 5D Christmas animation in both Westfield London and Westfield Stratford City."
The 'Elbow saves Christmas' experience will run until Christmas Eve Saturday 24th of December. With up to 50 people enjoying the experience together, it is estimated that approximately 4,000 – 5,000 will visit per day and 180,000 in total this Christmas.