Gail Chiasson, North American Editor
Kelvin Han is the partners relations manager at IAdea Corporation in Taipei, Taiwan. He is responsible for helping IAdea's software partners to quickly adapt their legacy software and services to run on IAdea's SMIL-based hardware platform.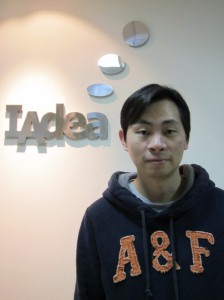 Describe your personal work space.

I sit next to the reception area so it's good spot to learn everyone's mood every day. The office doubled its space last quarter, so our personal space is now quite large. I am able to conduct all necessary testing with our devices on my desk, and we usually have short team meetings in our work space.

How do you get to work?

The IAdea office is located in Neihu Technology Park which is very close to the center of the Taipei city. I ride my scooter to work every day. It takes about 35 minutes in peak traffic hours. The best thing for working in this building is that each employee has a dedicated parking space in the basement. It's a tremendously nice thing to have this benefit in Taipei city. it saves a lot of time to find a place to park your car/scooter. (Trust me.. parking is a nightmare in Taipei)

After work, I love to hang out with friends in karaoke bars. I am also a movie fan so I go to movies quite often, and I have a home theater system set up in my room to enjoy my DVDs.

What is an average day like?

IAdea is a fast growing company – where our workload is also growing very fast.

Since the time zones differ, I generally start my first 20 minutes in a day by reading the emails sent through last night to understand what's happening in the other side of the world (mainly from our U.S. office ).

I'd say that life here is fast-paced and challenging We talk to people during the daytime on our side of the earth – either from Taiwan and other Asian countries; after lunch break, we start to make conference calls and speak to customer/partners from the west.

What is essential to you being able to work happily?

Humour, I think. We usually make funny jokes in the offices. I think that maintains the offices in a easy and comfortable atmosphere.

As part of a great team, I also see that happiness is when I can actually feel progress happening in my working skills, my working philosophy, and knowing that my career is heading on the right path.

How flexible are your working conditions?

They are very flexible. Generally the office hours are 0900-to-1800; but since we sometimes need to do late support or conference calls, we could start our day from 10a.m.. We are also welcome to start one's day early at 8a.m. and then go home earlier to pick up kids.

What do you think your employer looks for in its staff?

Digital signage is fast growing industry and filled with challenges every day. As part of the team, I think that we are all looking at the same thing – to see how far we can reach out and what we can leave behind for followers in the future.

Do you have any frustrations you would like to share with us?

Ah-ha! Can I say the frustration is that I am still expecting an 'outing', that usually only happens in overseas companies? (An outing means a company trip – not a business trip – where employees can take their spouse/girlfriend/family to accompany them somewhere for a short holiday with the whole company crews. Ed.) We only have 'national' (inside Taiwan) outings and are now hoping for an overseas outing.

What do you like best about your job?

I think the best thing about this job is that I can raise any ideas and discuss them with management, so I know what I am doing and if I am doing things correctly. That's the best thing for me: to enjoy the communications culture.

In fact, all employees here are open to give their ideas, and whenever we have anything to discuss, our CEO's office is always open. If you have a chance to visit our office, you will see that his door is always open and a knock-knock is always welcomed.

How much responsibility have you been given?

'With great power comes great responsibility.'

My responsibility includes software partner and customer account support across Europe. The main goal is to help all software partners to run our devices on their existing software platform and to explore more possibilities.

It's also my responsibility to keep the integration status on track and to share within IAdea internally so as to put everyone on the same page. We have had great breakthroughs in Europe this year. Therefore, we indeed work under very tight schedules every day.

How green are you and your company?

There are no hard copies for emails and documents. For approval forms, most of the time we only exchange electronic copy and put on it on the server.

What inspires you?

The inspiration I see in this company is that we are part of the POPAI standard membership. It's a great chance to be a pioneer in an industry and can actually help define it. I know that, generally, this kind of role is played only by big companies. It's incredible that we can be part of it.

What are your ambitions?

I want to see my personal growth keep up with the company growth. As the company grows, I believe that this will create more opportunities, and that there will be challenging stuff waiting for me, I hope that I am prepared when the chance comes.

If you could change only one thing, what would it be?

I hope there is chance for each employee in this company to be involved in more pre-sale activities. I think this will help our product to reach perfection, because everyone will have chance to listen to what each customer really wants. I believe this can also help in our internal communications.

How much time do you devote to social networking?

Not too much. I am a old-fashioned guy. I don't play on Facebook or other social networking communities.

What are your most useful tools you use to do your job?

My Blackberry is my best pal for me to keep in touch with my customers. When I am back home, I check emails with my Blackberry, and it is really handy to provide prompt response via email. I only need to turn on my computer when necessary.

What would be your dream job?

A job that can take me to see different countries around the world and to get to know the people all over the world. We know the world is flat but how flat can it be? We know a lot from the Internet and documentaries, but I deeply believe that I will get a totally different feeling if I have chance to embrace it with my own arms.

What makes you laugh during the work day?

I think that all my colleagues have a sense of humour in this firm. We seek a chance to make jokes in every possible condition, so I'd say we try, when possible, to make people laugh and keep showing smile wrinkles on our faces all the time. That keeps people looking younger!