Adrian J Cotterill, Editor-in-Chief
At #CES MultiTouch will demonstrate what could be the world's largest integrated multi-user LCD multitouch display, the MT550W7 MultiTaction Cell 55″ Full HD LCD Embedded Windows 7.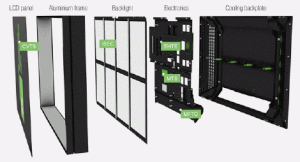 MultiTaction 55″ Cell displays are full HD LCD, only 20 cm deep and can accommodate an unlimited number of touch points and an unlimited number of concurrent users with full hand recognition.
MultiTouch will also demonstrate at CES:
the first multitouch version of 'Angry Birds'
2D marker demos
The first native multitouch game
Social media apps for multitouch, including the obligatory Twitter wall
Initial customers for the MultiTaction Cell 55″ include Intel Corporaton, U.S. digital agency Momentum and Norwegian interactive design firm One Communication, so we are told.