Adrian J Cotterill, Editor-in-Chief
Tech startup BryteWerks, a boutique consumer electronics company with an emphasis on professional motion picture exhibition products sure have been super-stealthy (few industry experts we spoke to had heard of them or what they had been working on).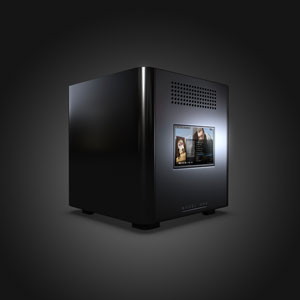 In between Xmas and the New Year (probably not the best time to come out of 'stealth mode' mind you) they announced a 'New Line of Intelligent High-Def Digital Projectors'.
We obviously haven't seen any of these products for ourselves but if they are (indeed) quality products that are within throwing distance of the claimed specs, this announcement could in fact be a very big deal.
The announcement claims that the BryteWerks Model One line of Intel™ Core CPU-based digital projectors "merge state-of-the-industry computer, digital, and optical technologies with superior connectivity capabilities and innovative industrial design into a cost-effective and intuitive multimedia control and exhibition powerhouse".
For USD 2,500 you get a projector with better than HD resolution, 6000 lm and a media player with storage (including a lot of solid state storage) AND a claimed depth of focus as close as one foot and up to 50 feet (which seems a very big claim indeed).
The products are designed for either consumer or professional applications, the BryteWerks Model One line delivers exhibition-quality 16:10 widescreen 1920×1200 resolution (within 5% of professional 2K cinema systems), through a LCD Native WUXGA panel.
Internally, the BryteWerks Model One projectors feature (depending upon model configuration), a fully-integrated Intel Core i3 to i7 HTPC CPU, a full featured, slot-loaded Blu-ray player, up to 2 terabytes of internal storage, including a 500 gigabyte Solid State Drive, and a custom version of XBMC, an open source media organization and playback application.
BryteWerks claim that this makes the Model One a revolutionary and unsurpassed media center.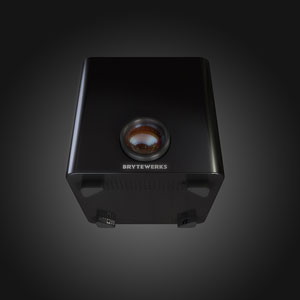 The ability to operate numerous BryteWerks projectors and connected devices simultaneously is controlled from either; a 720p 8.9-inch touch panel display on the back of the projector, a provided RF remote control, a free XBMC remote app for Android and iOS devices, as well as existing Wifi & Bluetooth devices – from keyboards to smartphones to tablets.
The ability to build a professional cinema experience effortlessly, seamlessly and transparently in any environment or application without playback interruption is stressed in the announcement – operational features include customised media playlist creation, variable frame rate control up to 60 fps, pre-rendered transitions, and independent control of 'connected devices' and/or daisy-chained BryteWerks projectors (or a combination of the two).
Professional post-production applications include editing, visual effects creation and color grading and the open-source Python-based XBMC offers infinite feature and plug-in development allowing users infinite customisation options.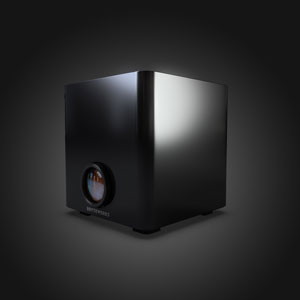 There's also connectivity via 802.11n Wifi, Bluetooth and gigabit Ethernet and a patent-pending cable management system that conceals all cable interfaces in the projector's Mag-Snap™ feet.
The open source, industry standard Metal Halide lamp allows the user the choice of replacement bulbs from multiple inexpensive vendors and we are told that bulb replacement is fast and easy, without the need for tools, by simply releasing the Model One's magnetically-latched lid and unscrewing the bulb from the projector's light engine.
The four BryteWerks Model One projectors announced range in price from USD 2,449.00, USD 2,999.00, USD3,999.00 and USD5,999.00, and are available factory-direct through www.brytewerks.com, which launches on January 9, 2012.
All BryteWerks projectors purchased factory-direct are backed by a ten-day, 100% money back satisfaction guarantee.