Tokyo-based beverage company Asahi Soft Drinks has launched a vending machine that not only offers drinks but also sends out Wi-Fi signals within a 50m radius.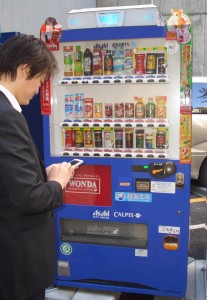 The Wi-Fi will be available for free, is accessible with multiple devices, without registration, and for anyone to use for about 30 minutes, whether you buy a drink or not. After logging in, users will see various location-specific information on the home screen, for example on local stores, or sightseeing spots.
There are plans to set up 1,000 of these vending machines in five different regions in Japan (Tokyo, Sendai, Chubu, Kinki, and Fukuoka) in the first year. The plan is to roll out a total of 10,000 units in the next five years. The reach of this network could potentially turn the whole of Japan into a hot spot.
Asahi is currently operating 250,000 vending machines all over Japan.