This year mobile operator O2 is launching Europe's largest free wi-fi zone in central London. The 'zone' will be running across the boroughs of Westminster, Kensington and Chelsea leveraging a system installed on street furniture.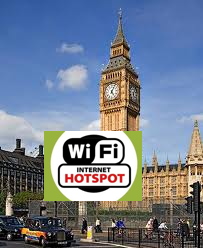 O2 said the deal, which will have no cost to the taxpayer, will enable visitors to "make the most of what London has to offer".
Councillor Philippa Roe, cabinet member for strategic finance at Westminster City Council, said: "Westminster welcomes over a million tourists a day, is home to 250,000 residents, employs over half a million people and sees 4,000 business starts-ups each year.
"Visitors to London will easily be able to share their pictures and updates of the Olympic events across social networking sites."
O2 will begin installing the Metro wireless network across Westminster this month, initially being available in limited areas before being rolled out across both boroughs.
London is catching up with other major cities. In Paris, several hundred individual wi-fi zones offer free connections in public parks and municipal spaces. In Buenos Aires there is free wi-fi on the underground.
New York also offers free wi-fi in parks and last year began to install wireless internet access at several of its subway stations.
London's service will be powered by equipment attached to lamp-posts and other existing structures on London's streets, and should be completed by March.
Derek McManus, chief operating officer for O2 says, "Our longer-term aim is to expand our footprint of O2 wi-fi, which is open to everyone, and also intelligently enhance our services at street level, where people need the network the most."
One question is whether it will be able to handle the Olympic games visitors mobile and internet traffic.
A spokeswoman for Transport for London told the BBC that it hopes to install the service in up to 120 stations on the network in time for the Olympics.
There is a warning though, that residents living in the free wi-fi areas should not be considering ditching their home connection.