Gail Chiasson, North American Editor
Management of Cambridge-based visualplanet, which pioneered the large format touchfoil market. believes that its newest touchfoil product will make entry by value added resellers into the expanding dynamic digital signage market faster and simpler.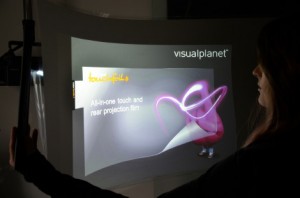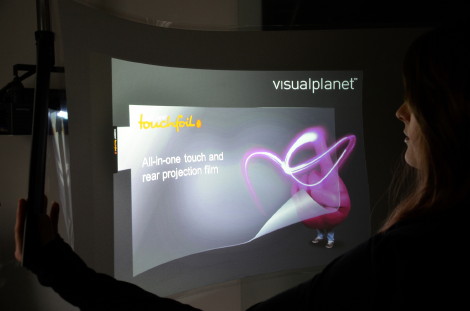 The new flexible touchfoil with integrated rear projection film can be fitted easily inside exterior windows, or behind interior flat or curved glass panels, to allow interactive media to be touched from the other side of the glass or in the street. It can be used to add interaction to any customer facing situation such as shop windows, business reception; exhibitions and museums – basically any location which would be enhanced by adding an interactive experience.
The touchfoil's unique flexible format, bespoke sizing (up to 4m long) and ease of installation minimizes the complexity of deploying interactive rear projection solutions. This all-in-one product makes installation effortless, as easy as applying a window graphic, saving valuable time and money.
Mike Cole, director of visualplanet, says, "Many of our partners have been asking for a simplified rear projection touch solution. Our new product achieves this goal and demonstrates our commitment to continual development and innovation of our products and services to meet and exceed our customers' expectations".
Each touchfoil is manufactured to the customer's specific size requirements, and works using 'projected capacitance touch technology'. The transparent touchfoil can be attached to and work through non-metallic materials such as glass up to 20mm thick. The touchfoil handles single- and multi-touch user interaction. Shipping is simple: the touchfoil is rolled up and placed in a cardboard tube, making it easy for export.