Adrian J Cotterill, Editor-in-Chief
We have a fascination with things being the largest don't we? Perhaps that's because the industry is predominantly run by men .. anyway, we digress…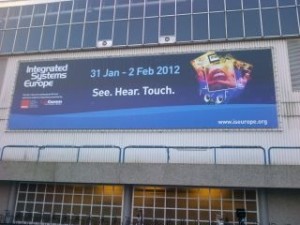 The #ISE2012 organisers stated yesterday "By any measure ISE 2012 is the largest yet".
"The number of exhibitors has increased by 15% since last year, the gross square metreage of floor space occupied at the RAI has increased by 18% and preregistrations were up by 21% compared to 2011".
Speaking just before ISE opened on Tuesday, Integrated Systems Events managing director Mike Blackman said that although the total number of attendees could only be conjecture, combining the 36,702 preregistrations with a typical on-site registration level of around 4,000 attendees suggested the total level would exceed 40,000 for the first time.
Whether the snow (which we know has affected travel from Italy for example) affects those final figures in any significant way we don't know.
What we do know is that after day 1 we can safely say that the show has been a resounding success. There's definitely a good buzz around the show and the industry at the moment. Hats off yet again to Mike Blackman and his team!