Gail Chiasson, North American Editor
This is the time of year when many North American senior high school classes are gearing up for graduation class trips to Europe (or maybe the Big Apple) and university students are planning those post-grad-before-work-kicks-in backpack tours, so when we saw these new apps from Travora Media, New York, we figured that it was ideal timing for their launch.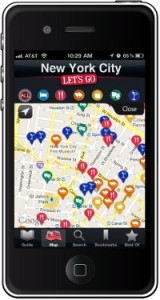 Travora Media, building brands in travel with mobile, social, and video content services, has launched five iPhone apps for its Let's Go partner affiliated with Harvard Student Agencies Inc., Cambridge, Massachusetts. 
 
The apps are available free on iTunes for New York, Paris, London, Amsterdam and Rome.  Let's Go apps are loaded with content that makes traveling more affordable, rewarding and fun for the adventure-seeking, yet budget-conscious, young adult traveler. For example, users can share their whereabouts with Facebook friends as they travel; get recommendations for affordable (often free) sights and activities; find out the location of hip restaurants, clubs, bars, shops and hotels, and use GPS mapping and a quick bookmark function for pre-trip and on-the-go-planning.
 
Unlike other travel destination guide apps, Let's Go content is written entirely by college students while they are at the destination.  For timeliness, the apps are updated dynamically and include a recommended itinerary for each city.  Because the apps are preloaded via WiFi or 3G network, they can also work in an offline mode to save travelers international roaming and connection costs (live streaming is also an option for those with global data plans).
 
"Being the de-facto student travel guide has always been about the innovation and quality of content and authorship; seeing the world through the eyes of peers," says Jim McKellar, CEO and general manager of the Harvard Student Agencies Inc.. "These days, travel is about sharing experiences in real time and getting recommendations from trusted sources.  Our partnership with Travora Media has enabled us to offer our content to new generations of travelers in the most convenient ways to them. By bringing the brand to mobile, we are ensuring its relevance for generations to come."
 
"The new Travora Media is all about breaking-through the travel clutter, and finding and bringing to market differentiated consumer-centric products for real travelers," says Nan Forte, CEO of Travora.  "Already having the largest travel information audience online in the US (comScore, Dec. 2011), Travora Media is aggressively focused on building out the mobile marketplace for travel. Through our partnerships with existing and new brands, we are supporting the creation, development, monetization and distribution of travel information products for mobile web and apps."
 
The new apps are accessed in the iTunes App Store by typing 'Let's Go' and selecting the city name New York, Paris, London, Rome or Amsterdam. 
 
Let's Go student travel guides are written entirely by college undergraduates.