Gail Chiasson, North American Editor
Ahmad Ouri has only been president of Premier Retail Networks for about four months, and while he admits to still being a rookie, he seems to have his hand firmly on the tiller to steer PRN with a changing strategy into a new era.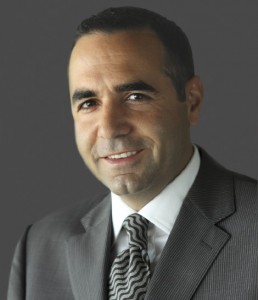 When Ouri was announced as president at the PRN Upfront in New York last October, he was a rather unknown entity to much, if not most, of the digital out-of-home industry. The people who knew him best were those at Technicolor, PRN's parent company, where he was putting his background and several degrees in engineering and business to work in numerous senior positions, most recently as chief marketing officer.
"I think I was asked to take on the role of PRN president because I was a known entity to the owners of PRN, familiar with the company and the people," he says. "So I can't say there were any major surprises coming in. But it was great to find that I had inherited a management team of quality and that really jelled as a team. That's not always the case in companies.
"And this is an amazing learning experience that's still going on. Advertising as a pure business: that's a new world to me."
Since taking over the role of president, Ouri's priority has been to look at PRN's growth and innovation strategies for the company that's celebrating its 20th birthday.
"I'm not talking about technological innovation," he says. "I'm talking about business model innovation, where PRN is going with advertising, and leveraging our partnership strengths."
When asked about PRN's January 'acquisition' of indoorDirect, as many industry observers called the event, Ouri was quick to jump in with the fact that it's a joint venture with PRN now holding 50% of the business and the other 50% still held by its former investors and shareholders. (We're aware that little of the actual 'staff' of indoorDIRECT is left. )
"This gives us a larger footprint in advertising and also makes us more diversified," he says. "indoorDIRECT clients are a different demographic; have a different dwelling time; carry different advertising. It adds another dimension to PRN's business. We already had strong back office expertise.
"When we took indoorDirect over, it operated in about 1,200 major brand quick-service restaurants across the U.S.. We expect to have about 2,500 locations by summer, 2012."
The QSR sector, as PRN's Dining TV Network, makes up one of three types of networks handled by PRN. The others are the HDTV Network, an in-store media solution enabling marketers to engage and message consumers through a wall of brilliant HDTV screens in the some of America's largest retailers; and the Checkout TV Network which offers marketers a forum to engage captive shoppers while they are waiting in the checkout line at supermarket and mass retailers.
PRN's advertising networks are in-store communications vehicles designed to engage consumers in places where and where they are receptive to marketing messages and actively making purchase decisions. The company's merchandising networks offer the same benefits as the advertising networks while also offering other merchandising-specific strategies such as couponing (Provision kiosks – see below. Ed.) and end-cap/location-product specific programming.
"At this time, we're concentrating on the QSR sector and growing that across the U.S.," says Ouri. "We're focusing on the indoorDirect networks. We are also looking at moving stronger into the health and wellness sector, especially within retail outlets and as well as in separate pharmacies.
"There are no plans at this time to expand outside the U.S., although we also have operations in Mexico. However, we're winding down our locales in Poland and Brazil."
Under Ouri's leadership, PRN is changing, with more focus on being a service network operation and less of a technical house.
"We are a media company," says Ouri, "That's where the value is."
And, recognizing that PRN has been a rather quiet, media-shy company, "You're going to see PRS much more open with our partners, with everyone, including the press."
Asked what kind of measurement PRN uses, Ouri says that the company is using various measurement solutions depending on its various networks to register audience measurement, dwell time, repeat purchase, sales lift and more.
"We're looking at all models," says Ouri. "We have a big research group. We are looking at adding more technology to measure today's sophisticated audiences. And we're looking at working with a number of companies. We're not looking to reinvent the wheel, when there are already systems out there for capturing data."
PRN partnered in January with Provision Interactive Technologies Inc., Chatsworth, California. Provision will provide advertising sales, creative strategy, programming and custom content for kiosks that will soon roll out in thousands of prime locations with retailers nationwide. (Intel's AIM Suite, an audience impression metric technology, has been integrated into Provision's 3D holographic kiosk displays.)
The first of these kiosks, combining both glasses-free 3D along with a 2D screen, will be deployed in Q1. Each Provision 3D kiosk contains a 3D holographic display at the top of the device with a 2D interactive screen below that provides consumers access to information, promotions, rewards, coupons and product samples.
PRN develops custom, branded entertainment content enabling marketers to integrate their products into fresh, entertainment-based shows.
"We're making sure that we have compelling content on our network screens," says Ouri. "We want to make it captivating for the consumer and then add advertising to it, rather than vice-versa."
With Technicolour as its parent company, plus having its own content creation group within PRN, producing its own programming content won't be difficult. In addition to providing best practices and programming strategies, PRN delivers custom media produced in its own full, on-site state-of-the-art production facilities, which includes post-production, graphics, animation, audio production and encoding. It has already produced a cooking show, among others.
Software used by PRN varies according to its networks as well, some of it its own and some external.
"We're going to be looking a lot more outside, as well," says Ouri. "We'll be open to third-party software solutions."
We asked whether PRN is moving towards offering turnkey solutions.
"We're trying to build, trying to create, but a turn-key solution is not our core business," says Ouri. "We're interested in partnering with third-parties. We're selling advertising." (And yes – D. Scott Karnedy, former chief sales officer will be replaced but hasn't been as yet.)
Ending our interview, we asked Ouri what he foresees for the digital out-of-home industry.
"We're seeing a bit of budgeting space, but the challenge, before becoming an A-line item in advertising sales, DOOH/Digital Place-Based media needs to show solid measurement," he says. "We're being held to a different standard than traditional media. We'll be able to do a lot more in a retail environment with solid measurement.
"I think the industry organizations must band together to convince the world that we are a good place to put their money."
It looks as if, under president Ouri, we are going to be seeing a much more open and progressive PRN than has been seen in the past several years.
Time will tell!