Adrian J Cotterill, Editor-in-Chief
Ok so we have #GS12 and #dse2012 up first (and it feels like we only just got away from #ISE2012) but that doesn't mean that we can stop planning or reporting on events further ahead and so it is that we bring you news of the first round of confirmed speakers for #Screenmediaexpo which of course takes place 16-17 May at Earls Court 2, London.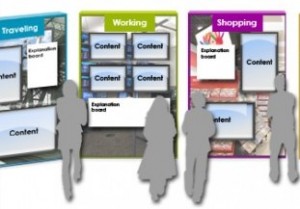 Speakers fit into four key education programme channels – Connected Screenmedia, Connected Content, Interactive Connection and Smart Connections.
Mark Pigou, show director, Screen Events Ltd. told us "We're looking forward to building on the success of last year's education programme. 2012 is set to be even better, and we're excited by the quality and diversity of the speaker line-up announced so far – no sales pitches or repetitive speeches in sight."
As in past years, the free to attend education programme will feature an assortment of high calibre individuals (just what insight John Ryan's Nancy Radermecher will be able to impart to the audience apart from how to take a 80 Million dollar company and make it an industry laughing stock is a bit beyond us) from the screenmedia sector.
Each has been carefully selected (obviously except for Nancy) for their expert insight, specialist fields and well-conceived, bespoke presentation submissions, which demonstrate academic intelligence balanced with practical knowledge, guidance and real-life examples.
Speakers will include Chris Gorell Barnes, CEO of Adjust Your TV, Tim Huckaby, Chairman and Founder of InterKnowlogy and Actus Interactive Software, Nancy Radermecher, President of John Ryan, Carolyn Nugent, Head of UK Digital at Kinetic Worldwide, Paul Skeldon, Editor of M-Retailing, Jeremy Gavin, CEO/Head Content Chef at Screenfeed, Danielle Pinnington, Managing Director of Shoppercentric, Steve Cox, Marketing Director at JC Decaux Airport, Rob Thurner, Mobile marketing consultant, trainer and speaker, Alfio Pozzoni, Director of Research and Innovation at Fabrica, Giovanni Flore, Benetton Live Windows Project Manager at Fabrica, Nikki Baird, Managing Partner, RSR Research, and Bruno Zamborlin, Goldsmiths College, University of London/IRCAM – Centre Pompidou.
Speaker biographies, photos, presentation titles and summaries will be available on the Screenmedia expo 2012 website.
Ogilvy Digital Labs, Clear Channel, Smartbomb, Total Immersion, Grand Visual, iTaxiTop and Intel will also be participating, with speaker names yet to be confirmed.
The four programme tracks of the education programme are designed to provide visitors with high-quality thought leadership that can be used to move their respective businesses or projects forwards.
Connected Screenmedia – covers the 'value exchange' between the screen and viewers/users and considers how screenmedia can work collaboratively with the multiple devices, platforms and apps that consumers are using as part of their daily lives
Connected Content – considers exactly what gets viewers, users, brands and advertisers engaged and excited. It will showcase, explore and explain how to create innovative screenmedia experiences that push creative and technical boundaries
Interactive Connection – evaluates the role interaction plays in creating an enhanced user experience and how this interaction generates insight that can be used for marketing and commercial benefit
Smart Connections – explores what data screenmedia networks could and should be using to deliver real-time communication to audiences and generate response. It will examine how applying rules to data use allows screenmedia networks to react quickly and efficiently to mission critical changes
To submit a speaker proposal or to ask any questions relating to the education programme channels, contact chris.heap@imperativegroup.com.