Adrian J Cotterill, Editor-in-Chief
It wasn't just yours truly smelling nice in Las Vegas last week, the whole area around the ScentAir booth #1456 at #gs12 smelt of, well it smelt of anything you liked, as visitors selected 'scents' from one of two interactive touch screens built into the side of this BEAUTIFUL Volkswagen Type 2 Campervan…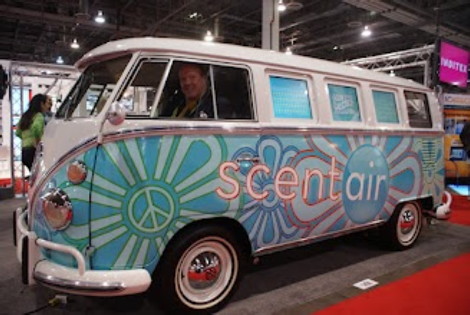 The VW Campervan was of course a great way to get visitors interested in what ScentAir do – the very serious business of offering 'the right scent, in the right way' to the hospitality industry and retail environs.
On the surface it may seem like a simple concept, but it's a very powerful way to create and enhance exceptional experiences. They even let a certain 'loon' sit in the driving seat, though they were not expecting him to grin, smile so madly and beep the horn so much I guess!
Interestingly there are only two degrees of separation from ScentAir to true Digital Out of Home – let me explain; ScentAir's primary investor is Alerion Partners, Virginia Cargill joined Alerion Partners after she left CBS Outernet (Virginia was of course CEO of Signstorey, which was sold to CBS Outernet).