Adrian J Cotterill, Editor-in-Chief
Folks, by the time you get back from Christmas and New Year's holidays it will be a week or so into January and less than 4 weeks later we hope that many of you will be off to Amsterdam.
We have kept most of January free (I don't think any traveling at all) as February will see us at ISE at the beginning of the month and Vegas at the end of the same month for DSE.
We have had lots and lots of discussions with folks in the last few weeks about shows and conferences. With corporate travel being cut and budgets slashed everywhere, one of the first things to go could easily be attendance (and of course exhibition stands) at events.
The event organisers in 2009 are going to have a tough time of it proving to all of you that you should give up your time and spend your money on shows BUT we think that most of them will be up to the task.
As we always say, the strong and the innovative will prevail and we are still very much looking forward to ISE, DSE, Screen Media Expo Europe and Infocomm in Florida (that last one being particularly of interest to our employees with families for some reason).
Shows are especially important for those who have no choice but to actually demonstrate what they do so none more important than the gesture, very large screen or sound people!!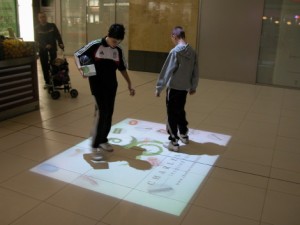 Here we see GestureTek's patented body tracking technology (it responds to body movement to project dynamic interactive multimedia content, special effects, interactive advertising or games onto any surface, of any size) being shown by their new UK distributor, Paradigm AV for the first time at ISE in Amsterdam (3rd to 5th February 2009).
Paradigm AV director Greg Jeffreys told us "We are hugely excited by these immersive, interactive systems. In Amsterdam we will have a GestureFX-enabled projection at the show with something something truly innovative when a visitor encounters it."
Done properly this could be good.
About Paradigm AV

Paradigm AV are the UK leaders in rear projection technology, and their custom engineering has helped deliver a number of pioneering projects in the themed attraction and virtual worlds, including the eight-sided octave at Salford University, (billed as "the world's most flexible immersive reality environment"), Charlie & The Chocolate Factory at Alton Towers, where military-quality simulator technology from the visualisation world has been used to create an immersive environment, taking visitors on a virtual 3-D, 360° panoramic tour; finally, Paradigm's precision engineering has enabled 'virtual' live performances to take place in nightclub by rear projecting 3D 'Holo' images in free space as an evolution of the Victorian 'Pepper's Ghost' principle. As approved suppliers to military and other mission-critical applications, Paradigm's ISO9000:2001 quality systems are applied to all products and projects, no matter what size.