Gail Chiasson, North American Editor
We weren't sure how to describe Insteo when we first interviewed Jim Nista, the company's CEO, and we're still not sure of the best description.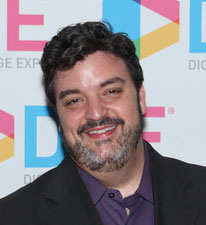 That's because Insteo actually wears several hats, adding another with the launch at Digital Signage Expo of its new, unnamed service that allows the mobile user to take what he sees on an interactive digital screen with him on his mobile device.
Walking through the airport, the user can, for example, check the airline schedule on a digital screen, transfer it over to his Android or iPhone, and then use it interactively wherever he goes.
"It has multiple uses," says Nista. "Students can use it for registering for classes or locating lectures. It can be used for wayfinding – for basically anything that you want to bring along from an interactive screen."
Nista, who, along with a couple of private investors, owns the 12-employee, 10-year-old company located in Long Beach, says, "Actually, Insteo's new offering did have a tentative name until we learned that the name is used by another company, so we're now in the process of rebranding it."
Insteo actually started in business as a marketing agency and still spends at least half its time developing content and software, mainly for retail clients such as Kroger Corp..
"Digital Signage operators often work with software providers such as Scala and Broadsign, and they bring us in to provide the content," says Nista. "So we end up working with a lot of partners.
"Events are big for us, too. For example, we did the Comic-Con shows. Often we'll create promotions for digital signage and then provide the software. Or we'll do a promotion like one we did recently where people email into a screen to vote and then the emailed names go in to the event sponsors for marketing purposes."
Those who went to the Mixer organized by Dave Haynes during DSE week would have been exposed to Insteo. It provided the content on the NanoLumens screens that were linked to the NFC chips by Blue Bite in guests' badges.
"Most of the things we do involve partners, and, in one way or another, involve our creating content." says Nista. "We're developing partners in Canada and the U.K. as well as in the U.S.. And we're moving more and more into the digital content side."