Adrian J Cotterill, Editor-in-Chief
Total Media in Spain is an event that we haven't been to since 2009 but it's a good event, put together by passionate people and with a nice core of regular exhibitors.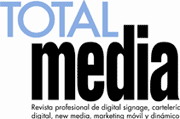 Or perhaps we should say 'was' – although it hasn't been officially confirmed as yet, it looks very much like the event, which was scheduled for 25th to 26th September this year will not now happen.
Reed Exhibitions Iberia, the company that organises Viscom Sign Spain issued a statement late last week that it had "signed a strategic agreement with Agustín Torres, consultor expert in the sector of Digital Signage" – the announcement was slightly confusing and written in a form of 'spanglish' but bottom line it seems that in some form or other Viscom Sign Spain have pretty much the whole Total Media team working for them now.
Whilst the passionate Total Media lovers lose out in September the region now has a single event that will focus on digital signage which can only be a good thing.

Viscom Sign Spain 2012 takes place 17th to 19th October at the Fair of Madrid (Ifema) and Fernando Torres will we believe be overseeing 'Digital Signage World' which will be a part of the whole.
The Spanish Association of Digital Signage (Aedisi), the Spanish Association of the Digital Economy (Adigital) and the Spanish Association of employers of luminous labels and affine industries (Aserluz) are all now supporting Viscom Spain.
We wish that the statement was all made a lot more clearly and simply said that Total Media will be no more and the regions's efforts in Digital Signage would be taken forward by Viscom Spain but alas in our industry 'simple' never seems to the easy option (which makes us think that there are more shenanigans going on behind the scenes so do watch for more announcements).
The website http://total-media.es/ doesn't seem to exist any more either.