Gail Chiasson, North American Editor
One of the smart new people that we had the opportunity to meet in New York this week while attending the MediaPost Digital Out-of-Home Forum was Jessica Coates, NEC Display Solutions of America Inc.'s new national advertising sales manager.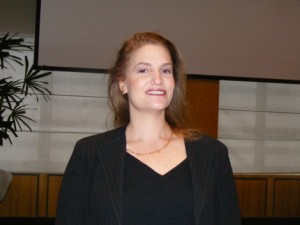 Coates is responsible for the advertising sales of NEC's digital out-of-home ad inventory, working with key brands and agencies to develop DOOH campaigns based on available inventory that fits their objectives.
With an extensive background in marketing and advertising leadership, Coates has more than 10 years experience fueling revenues and product visibility for top Fortune 500 corporations. Her specialty includes the DOOH space and non-traditional media, an area she has helped develop since 2001.
Coates assisted in the installation and sold the first ads on the CBS Spectacular located in Times Square. She has sold ads on the Macy's screen mounted on the Macy's store in Herald Square, an created the concept that the New York State awarded to replace the Target lava lamp display that was located in New York on 42nd Street.
The crown jewel in her DOOH experience was when she sold and managed the NASDAQ Tower in Times Square, while working at Viacom Outdoor, now CBS Outdoor. She has sold ads on interactive digital displays and large digital networks that were located in malls, movie theaters, and gas stations.
Coates prides herself on building top performing teams, gaining visibility and brand awareness for her clients, creating a strategic marketing plan to target diverse audiences and being consistently the top performing digital sales person with multi-million dollar sales results year after year.
Watching her confidently meeting and greeting old and new acquaintances at the forum, we have no doubt that NEC has picked itself a winner.