Gail Chiasson, North American Editor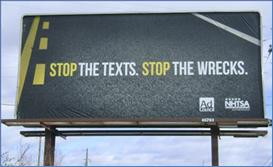 At the 2012 TAB/OAAA Out of Home Media Conference & Marketing Expo in Miami, Peggy Conlon, president & CEO of the Ad Council, announced a new out-of-home public service effort to inform Americans about one of the Ad Council's most popular campaigns – Texting and Driving Prevention.
The Ad Council has made new outdoor inventory available immediately so that the industry can begin to post the new ads, which urge young drivers to 'Stop the Texts' and 'Stop the Wrecks'.
The campaign was first launched in Oct.. 2011, after which out of home advertising inventory was depleted in a matter of days.