Gail Chiasson, North American Editor
COMMcaddy Network, growing constantly since we met at the Scala's Connected Signage Conference in Philadelphia last May, has entered into a multi-year contract with the Atlanta Braves to incorporate its COMMcaddies into 11 different locations within Turner Field.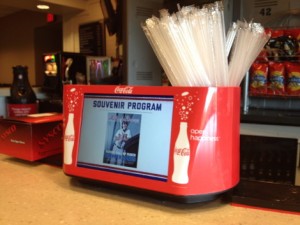 If you are purchasing a Coca-Cola or beer at the stadium – you are probably going to be greeted by a COMMcaddy. While the normal Caddy color is black, the company produced custom made Coca-Cola red Caddies for this installation.
Currently, COMMADDY Network has over 40 screens deployed at Turner Field, and the Braves are anticipating to draw over 3 million fans this year.