Adrian J Cotterill, Editor-in-Chief
Australia's leading telecommunications provider, Telstra, and out-of-home operator, Eye, have teamed up to deliver a Samsung GALAXY campaign across Eye's digital network at Melbourne Airport.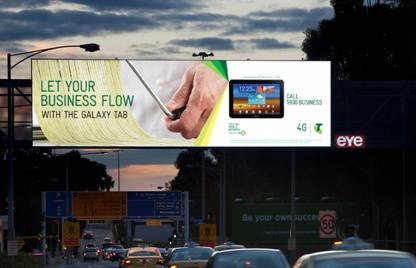 The GALAXY Tab 8.9, the first tablet to take advantage of Telstra's 4G LTE enabled network is the first campaign to feature on Eye's new Digital Gantry screen at Melbourne Airport which was launched earlier this month.
Mark Fairhurst, General Manager, Sales at EYE, told us "Telstra is one of our most valued clients. The digital network at Melbourne Airport gives Telstra the opportunity to connect with premium audiences on a visual platform that echoes the digital quality that Telstra provides its customers."
To date, EYE has invested over AUS $5m at Melbourne Airport to ensure its media is world class and of market leading quality. Robbie Dery, General Manager – Commercial at Eye said "The market has told us they want greater digital capability and we're delivering that. Our latest LED gantry site is one example of the ongoing transformation of our airport media nationwide. The highest quality opportunities for advertisers, continued audience growth1 and traveler's propensity to try new products, positions this as a valuable environment for brands."
Telstra and OMD worked with Eye to secure a full media schedule across their digital network at Melbourne Airport, inclusive of the new LED gantry site.