Adrian J Cotterill, Editor-in-Chief
A unique 'Fountain of Content' at this week's #InfoComm12 will show the pro AV industry how Arsenal Media's digital content services can quench the steady thirst that professional a/v and digital signage projects have for thoughtful, high quality creative.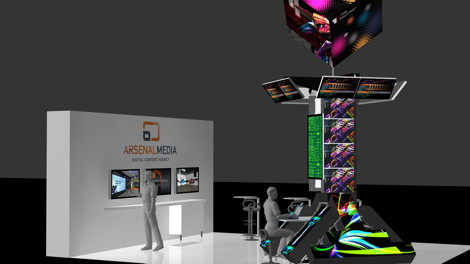 The Montreal-based digital agency's booth (N623) in Las Vegas June 13-15 will feature a custom-created tower of different types of displays, running ambient and interactive creative. 
Content will move and mingle from the large base made of Christie MicroTiles to the top portion, where projection mapping using Christie projectors will showcase a 3D mapped surface. LCDs, LED display blocks and more MicroTiles will complete the central shaft portion.
 
Arsenal's Fountain of Content will also have a dedicated VJ doing live blends of ambient audio and visuals, and booth visitors can interact with a sensor camera to affect content on the displays.
 
Arsenal Media President Denys Lavigne told us "The best digital display projects we see are those that push the boundaries on shape, interactivity and content strategy"
He added "We developed this idea of a fountain of experiential content to explore the relationship between form, content and technology, but also to inspire the integrators, architects, consultants and designers who come to InfoComm looking for ideas."
 
Like ISE, #InfoComm12 is a regular sea of technology solutions that are all part of the delivery and presentation platform for content, however, creative agencies are a rarity on the show floor.
Pierre Del Duchetto, Creative Director on the project told us "Using creative display technologies such as Christie MicroTiles has led us to develop new approaches in content creation and how we assign roles for screen-based installations. We saw an opportunity to showcase a more conceptual environment that is inspired by creative chaos, transformation, effervescence and marvel."
 
Arsenal Media has in the past provided creative solutions for clients with booths at InfoComm, but this marks the first time the award-winning company has booked its own space. "The timing was right for us, mainly because market demand is on the rise for enriched content experiences and interactive, branded destinations. This is where we believe we can bring value," says Lavigne.
 
The Arsenal Media booth, we are told, has a Yin and Yang personality: a fun, experiential side and a more practical, business-driven side intended to show the portfolio and demonstrate capabilities to the thousands of pro AV integrators who pack the show. 
The booth will have three interactive screens to view Arsenal's portfolio, as well as a live MicroTiles content creation station.
 
Arsenal also invites industry peers to a digital happy hour, with an open bar and live vj-ing June 13 and 14 from 3-5 p.m. at booth N623.