Gail Chiasson, North American Editor
This month, we introduce Shannon Vander Giessen, business development/digital signage for Planar Systems, Portland Oregon. She works with customers, third-party partners, and vendors to drive Planar's signage products business.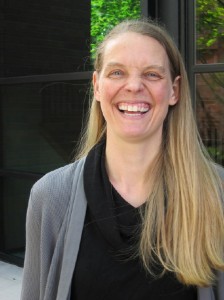 Describe your personal work space.

Coordinated chaos: there's media players, literature, magazines I'll eventually read, a well-used hot water kettle to keep me planted, and a rock to bring the great outdoors indoors. My office products haven't completely made transition to the digital age. Sticky notes decorate my Planar desktop monitors and I don't know if I could function without my day planner.

How do you get to work?

I drive my car, but when I relocated to Portland, one of my criteria was to be near a train station, so I could commute to Planar Systems headquarters and the airport via public transportation. Portland has a great public transport system. Between trains and bike lanes, I almost feel guilty owning a car.

What is an average day like?

There isn't an average day at Planar, which is fantastic. Digital signage touches all areas of our company, so I may be helping an account manager educate a partner on how to select a content management solution; discussing trends with product management; meeting with customers in the field (Planar's transparent LCD LookThru solutions and our Planar Mosaic architectural products have been very popular topics with customers); or engaging marketing on a campaign. Right now I'm spending a lot of time reaching out to companies in the digital signage ecosystem to get the word out about Planar and find like-minded companies who want to help drive adoption of digital signage. We have a lot of creative resources and products to bring to our partners.

What is essential to you being able to work happily?

Variety in my day and the opportunity to learning something new. Plana is constantly coming up with new products and concepts that keep me engaged. When I started with Planar, I was working on our recently released WeatherBright outdoor displays. It gave me all kinds of opportunities to learn about our engineering processes and to work with customers in conjunction with product development. As part of our QSR (quick serve restaurant) focus I was able to get peeks into all the products we have that complemented QSR, such as touch for nutritional kiosks and Clarity Matrix video walls for menu boards and dining area entertainment.

How flexible are your working conditions?

Very. I really have three offices: the corporate office in Beaverton (a suburb of Portland), my apartment (known as the 'fishbowl' for its floor-to-ceiling glass walls), and whatever airplane seat I may be assigned. I have a good work/life balance at Planar, I know if I take off into the woods on holiday, my customers are covered, and that keeps me on the top of my game.

What do you think your employer looks for in its staff?

Confidence and self-direction. There isn't a lot of micromanagement at Planar, so you are in control of your destiny – which gives you latitude to get what you need done for a customer. We're known for our customer-first attitude, and employees have to be confident they can act on behalf of the customer – and sometimes that requires some creativity.

What suggestions do you have for your company?

Clarity Matrix 3D video walls for everyone as employee holiday gifts. Barring that, I'd love to see some of the products that are on the drawing board or in product development come to market faster. What business development person wouldn't?

Do you have any frustrations you would like to share with us?

I think all the efforts companies in the digital signage world can make to help simplify implementations and long-term content maintenance will take care of my biggest frustration: those long, long sales cycles. The industry looks significantly different from when I got into it 10 years ago and I like the direction we're taking, but there is continual room for improvement to get the adoption rate up. Planar's doing our part and I'm pretty excited about a few products introduced at InfoComm12 in Vegas, particularly in large format displays.

What do you like best about your job?

This may sound cliché, but I work with great people at Planar who get things done. I get to work with creative customers applying our displays in all kinds of ways – our Planar Mosaic product, for instance, was inspired by customers who envisioned a world not limited by rectangles or a flat wall for a display. Our pre- and post-sales customer support members go out of their way to help. We work hard to say "Yes." You don't hear "It's not my job" at Planar, everyone pitches in to make that "Yes" a reality.

How much responsibility have you been given?

I think the responsibility is huge. Planar's focus on digital signage is strategic to our growth, and I feel personally responsible to help make that happen as quickly as possible. We have excellent display products, great people and customers for a strong foundation, and a team mentality to get the job done. If you're familiar with Planar, I'm sure you've seen a lot of changes for the better over the past few years. We've better aligned our account management and engineering teams; our marketing is evolving; and I think you're seeing the Planar brand in more markets and digital signage wins.

How green are you and your company?

We're based in the Pacific Northwest. I'd be remiss to say anything, but SUPER green. It's common to see people waving their arms in a meeting like they are on a desert island trying to flag down an airplane. We have sensors in our conference rooms for our lighting, and when the room doesn't think there's anyone there, the lights go off and the waving begins. We bring that green philosophy in our products. A lot of our products feature LED lighting and a lot of engineering goes into making the products energy-efficient. The WeatherBright outdoor product, for instance, doesn't need an air conditioner or heating unit, cutting down energy use.

What inspires you?

People who exceed their goals, just because it provides personal satisfaction. It's contagious working around others who enjoy what they do and do it for the love of the activity.

What are your ambitions?

Professionally, I want to be known as someone you want on your project, because I'm dedicated to solving a problem – and exhausting all reasonable (and some unreasonable) options before calling it quits. Planar's a great place to do that based on our products, customer focus and corporate culture.
Personally, I want to hike enough in 2012 that my hiking boots require new soles. I recently went from enjoying the occasional walk to going insane about hiking. I'm making another attempt to hike to the summit of Mount Shasta in July.

If you could change only one thing, what would it be?

I'm a shy, private person, but passionate about my job, so most people in the industry think I'm outgoing. I'd love to kick the shyness and be comfortable in social situations.

How much time do you devote to social networking?

I'm just starting to do social networking, now that I'm in an evangelist role. I just got on LinkedIn, but I don't see a Facebook page in my future. I've got a few ideas for Planar's blog that I'm hoping to contribute shortly. and see social networking becoming more integral in the industry. I'm getting there…

What are the most useful tools you use to do your job?

Industry blogs, newsletters and press releases give me the read on the industry. Email and text messaging are my favorite methods of remote communication, but you can't beat meeting people face-to-face.

What would be your dream job?

National Park Ranger in a park that isn't constantly hot and humid. I'd settle for rock star.

What makes you laugh during the workday?

What doesn't make me laugh? I find humor in most everything, which could get me in trouble with Human Resources. My cube mates frequently point out that I argue with myself. I'm consoled by the fact that I always win those arguments.