Adrian J Cotterill, Editor-in-Chief
It's probably not too surprising that there was innovation galore on display at #dsj2012 last week at the Makuhari Messe convention center in Chiba, Tokyo.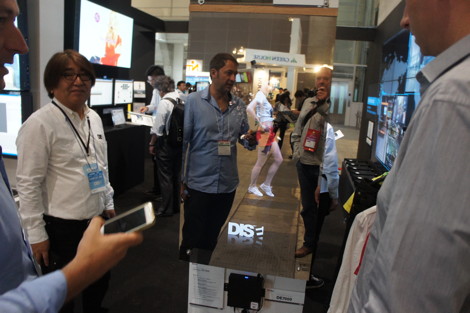 There were lots of mirrors (dubbed digital, fashion or magic in equal measure – the 'Magic Mirror' on the DISE stand shown above was particularly good) and a great fruit and vegetable stall as shown earlier from Hitachi.
In fact, if you are a fellow display manufacturer you should take special note. The likes of Hitachi demonstrated at #dsj2012 and Samsung (demonstrated at #CES and #ISE2012 for example) are doing great work at trade shows these days and the bar is getting very high.
Hitachi's booth babes aside, their whole stand at #dsj2012 was superb – so much put in context and the content was on the whole exceptional.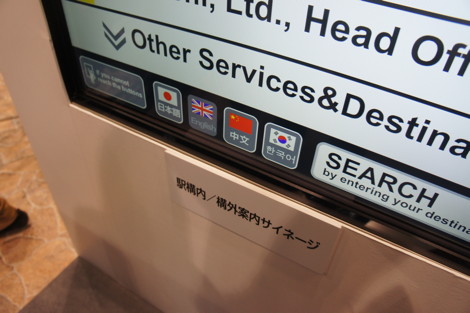 Just one example of how much trouble Hitachi went to, was their wayfinding solution shown above. Not only, in their well represented multilingual support but also lots of attention to detail with their 'disabled' override allowing people in wheelchairs to hit the buttons at the top of the screen (a legal requirement in many countries of course).
Overall at the show there were more booth babes than we have ever seen (and yes that includes 'consumer'ish' shows that we've attended in Lost Wages), lots and lots of people (hardly any Westerners mind) and apart from DISE and Scala surely a missed opportunity for software vendors to reach an important market?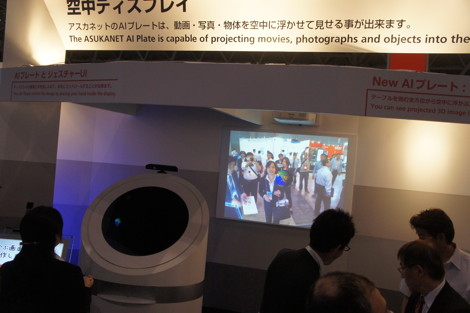 One of our favourite technologies on display was Aerial Imaging Technologies' ASUKANET AI Plate shown above (look for the Earth, that blue / green sphere, in the middle of the picture, in front of the lady. The lady is manipulating the earth on the stand itself.).
The equipment involved look quite bulky but the ASUKANET AI Plate is, we quote, "capable of projecting movies, photographs and objects into the air". Demonstrated on the stand were some true 'hovering-in-the-air' interaction with spheres, number pads etc.
#dsj2012 is the only Digital Signage event worthy of the name in Japan, it attracts loads of people and was well worth the trip.