Adrian J Cotterill, Editor-in-Chief
Premium outdoor media owner Ocean Outdoor is launching four new large format sites in Manchester city centre as part of its own 'top ten UK cities' growth plan.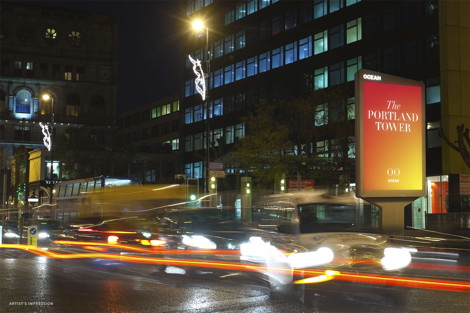 Ocean has unveiled the Portland Tower in Portland Street, a state-of-the-art double sided digital 3.1 x 5.8 metre tower (shown above) and the Media Wall@Printworks, a 15 x7 metre full motion digital screen at the Printworks (shown below).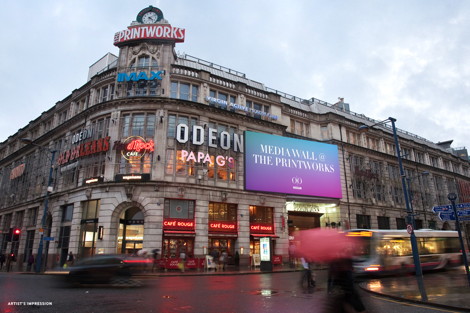 Both screens have been developed to dominate key audience pinch points – the Media Wall@Printworks is located in the heart of Manchester's retail district and The Portland Tower dominates one of the main arterials in the city centre.
To complement these digital developments, Ocean has also built two new banner locations; the first banner, located on Deansgate, is central Manchester's largest banner at 31 x 11.4m. (Skoda is the launch advertiser) and the second Portland Street banner is a double aspect banner giving a combined total of 258 square metres of creative canvas that aims to dominate the south eastern route into the city centre.
Ocean Outdoor CEO Tim Bleakley told us "These sites mark the second stage of our development plans to push our premium footprint into cities outside of London. Ocean now has the seven most spectacular assets in the heart of Manchester city centre and it's a blueprint we plan to replicate elsewhere."
These are the first regional sites Ocean has launched since its recent buyout, backed by LDC, the venture capital arm of Lloyds Banking Group.
Ocean's Manchester estate also includes Axis@The Hacienda, on the site of Alliance Partners' £35 million Axis tower development and three landmark 96 sheet non digital backlights in the Trinity Way and MEN arena areas.