Gail Chiasson, North American Editor
This month we welcome Chris Lanman, Senior Vice-President, DigiCast Networks, San Francisco.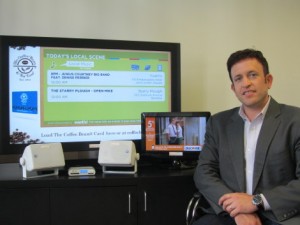 What is your personal background? How did you get into digital out-of-home and, especially, Digicast?

After graduating from university, I moved out west to pursue a career in the high tech industry and spent the first nine years of my career working for Intel and Apple Computers in a variety of operations and product management roles.

I stumbled into the Out-of-Home industry when a former colleague at Intel started a company called BriteVision Media, which is now part of Brite Media Group, and he wanted me to come on board to run operations.

My wife and I then had an opportunity to move to London where I helped build a marketing solutions company called Kyp where I worked for five years. After moving back to San Francisco, I was approached by the Brite Media executives about coming on board to start-up a digital division. We started the new division back in May, 2011.

Where in the U.S. are your networks located? How many different networks do you operate?

We have three unique networks: Gas Station Radio Network, Café Network, and Restaurant Network. Our networks are predominantly in the top 10 markets and we also have venues in the top 40 markets as well. DigiCast is installed in 2,300 exclusive locations and reaches more than 11.6 million consumers per week.

A little bit more about our networks:

Gas Station Radio reaches consumers with high quality audio advertising that is digitally delivered directly to consumers at the gas pump. DigiCast controls content, volume and ads on our installed media player and canopy speakers. Ads reach consumers at the gas pump and as they go to and from the convenience store.

Café Network has high quality independent and chain coffee house and juice bar locations throughout the country. It reaches an on-the- go consumer that is purchasing a latte or a fruit smoothie before they head back to work or go shopping. Our screens feature full motion video or can be used as a digital billboard to hold consumers attention and deliver an extended exposure.

Restaurant Network wraps banner ads around live television programming that customers are already watching without interfering with the viewing experience. The restaurant network has quality chain and independent locations throughout the country.

Do all locations in each network carry the same advertising? Are they all controlled at one central source? Please explain.

Each location is unique. Client ads and our content are specific to that location, as each location is IP addressable.

We control the entire operations of our networks from our headquarters in San Francisco. We have built a backend management interface that allows us to control delivery of ads, content, hours of operations, and volume (radio network only). It was important for us to ensure each location is setup to be intelligent so we can use Internet feeds like local events, news, and weather to update content on a regular basis.

Digicast is owned by the Brite Media Group. How do you leverage the heritage of that company?

Brite Media Group has many years of experience building networks around the on-the-go consumer where there is a reasonable dwell time.

It comprises two other divisions in addition to DigiCast, and has 150 employees in eight nationwide offices. The Specialty Out-of-Home division includes: BriteVision (Coffee Ad Sleeve and Café Marketing), AdverTickets (Cash Jacket and Valet Ticket Advertising), GSA (Gas Station Pump Top Advertising) and Prime Point (Pay Phone Street Kiosk Advertising). BMG's Brite Promotions division is a full service experiential marketing, live event and digital promotions agency.

We also have static products that allow us to cross-sell within the same network. Brite Media offers coffee ad sleeves in cafes and static pump top signs at gas stations. We are unique in the fact that we can offer physical and digital out-of- home media in the same locations for our clients in cafes and gas stations.

In addition, Brite Media has over 30 sales reps in the US and we have deep relationships with many media agencies and brands which has really allowed our digital division great exposure in a short period of time.

Your gas station network is strictly digital radio. Is the content all advertising? Does the noise of the cars not affect what people hear?

Our Gas Station Radio Network is 100% audio and no video. We have about six minutes with each consumer at the gas pump and as they go to and from the C-Store. We deliver client ads, music snippets, content (news, weather, sports, etc.), promos, and local content. Content and music is targeted to station demographics and area.

It is important that the audio can easily be heard at the pump. We use a scientific approach to ensure our audio volume is set appropriately to ambient conditions throughout the day. When we install our system at a gas station, we measure the ambient noise throughout the day and the week. Our management interface allows us to set the volume during different times of the day and week that factor in varied ambient conditions during the day and week.

One other point of distinction is that we control the volume and when the system turns on and off each day remotely.

You have at least two major competitors that offer advertising on screens at gas pumps. Why do you think that your clients opt for your radio offering rather than screens? What are the advantages that radio offers?

Correct, we contemplated doing a video network at gas stations, but we felt that Gas Station Radio is unique and compelling with a greater opportunity. The production cost is low and you can go from a concept to a live audio spot within a day or even hours.

We believe the advantages of radio over screens at the gas pump are the following:

Volume is loud enough to be easily heard;
It captures all consumers. Consumers listen to audio at all times and are not required to watch a screen;
There is no screen glare problem;
It also captures consumers walking to/from C-Stores;
It extends possible radio advertising out of the car;
There are less expensive creative costs.

Additional benefits of our radio system are that:

We control volume and content;
We offer mass in each market to create reach (ie. a lot of locations in each top DMA);
It allows a hyper-focus on the metro areas of each market;
We have over 1,100 location in top 13 markets with a 37.4 million monthly reach;
It offers flexibility as to when an ad runs in a specific market.

In your restaurant network, is all advertising in an 'L' shape around basic TV content? Does that limit the advertiser?

Yes, all of restaurant network ads are on an L-shaped banner. We use flash and are able to animate the creative to get the consumers attention. The great thing about this network is you have an average dwell time of 67 minutes where people are having lunch or dinner watching live broadcast TV. In many instances, they are watching a sporting event, so our clients are, eg., able to advertise during those sporting events while not interrupting the program. A data point from a study done by Nielsen is that 69% of respondents said they noticed the L Banner on the screens.

Tell us about the differences with your Café network.

Café Network is a digital signage network with different zones for ads, content, and promos. This network is much different than the Restaurant Network. There is more flexibility in the ad format since we are able to not only offer L shaped flash banners but also Full Motion Video, and XML RSS feeds.

You recently bought RMG's digital café network. What does that give you? There was a question in the industry as to whether that network was making any significant money. How do you plan to monetize it along with your existing Café network.

The RMG network gives us more locations in metro areas in top markets. You would need to speak with RMG regarding revenue when it owned the digital café network.

We are in the process of integrating all of the RMG's New York Times locations into our Café Network, which increases our café footprint to 650 locations. Our total café network is made up of well-known chains (Tully's Coffee, Dunkin Donuts, Coffee Bean & Tea Leaf, Einstein's and Noah's Bagels) and independent cafes.

Brite Media is a leader in Café Marketing and we feel this will enable us to not only offer static media but also digital media for clients in those venues.

Which of your networks do you feel offers the best opportunity for growth and why?

We feel very good about our three digital networks although we feel Gas Station Radio has a lot of potential. Our reach is substantial at 37.4 million people per month and overall production costs to deliver a spot to our network are very low and creative turnaround is fast. In addition, our clients could use their existing radio spots in our radio network.

Do you plan to expand into other sectors? If so, what sectors interest you and why?

At the moment we are focused on our three networks, which keep us very busy.

You use MediaProof for Proof of Performance. Is that your own software? What do you use for audience measurement?

Yes, MediaProof is our own software. MediaProof allows us to post proof of play for our clients online so that they have access to current and older campaigns. It's a one stop shop for proof of play that Brite Media uses for clients. For audience measurement, we use Nielsen and Arbitron.

What management software do you use for each of your networks, or did you develop your on. Why, in either case?

The café and restaurant network use our own priority software that was acquired through the TargetCast acquisition. For Gas Station Radio, we partnered with a company that has many years of experience developing management interfaces for leading audio service providers. Due to a confidentiality agreement, we cannot release that company's name.

Have you incorporated Wi-Fi, social media, QR codes, NFC or 3D into any of your networks in any way for any of your clients yet? Please explain.

We have incorporated social media into our video networks. We are also looking into integrating some of the other technologies you mentioned into our networks. I especially think NFC will be interesting once more smart phones adopt the technology.

Is it easier to win advertisers to your networks than a couple of years ago? What are the reasons?

Yes, it is easier to get advertisers than a few years ago because the digital OOH industry continues to mature and more advertising dollars are being allocated to this medium.

Do you have any plans to move outside of the U.S.? If so, where and when?

At the moment we don't have any plans to expand beyond the US.

What are your views on the future of digital out-of-home media in North America?

I believe the outlook is positive for our industry. New research done by DPAA shows that our industry has made great strides over the last year, as media buyers are budgeting and buying more digital placed-based media than in previous years.

For network operators, we will need to stay up with the technological curve with social media, mobile and NFC. There is an opportunity to extend the brand engagement once the consumer leaves the digital networks venue.

If you could do one thing to improve the awareness or image of DOOH, what would it be?

As digital networks continue to become more effective, we feel that ad dollars will increase. For instance, our restaurant digital network where we wrap ads around live TV is very different than anything that has been done before. There is no content creation and the dwell time can be hours while someone is sitting watching a ballgame.

Historically, we have seen network operators hang screens in locations that just don't make sense (for instance, in areas where there is little dwell time or consumers really aren't watching the screen).

As network operators continue to refine their offerings and make them more effective, the amount of ad dollars flowing into the medium will increase. At the end of the day, the only thing that will lead to greater dollars for this medium is effective ad networks. So really raising awareness around effective ad networks, where people are in engaging in the screens or audio with a meaningful dwell time, is the answer.