Advantech has announced its Hospitality Infotainment Terminal, the HIT-W181, now comes with Android 4.0 support. Interestingly the unit is in a range of products originally described as Healthcare Infotainment Terminals, but the release now refers to Hospitality rather than just Healthcare, which looks like Advantech is expanding their intended applications for this unit to other verticals as well.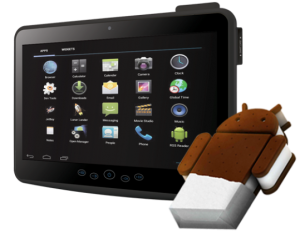 The HIT-W181 is an 18.5", 16:9 multi-touch terminal, with features including 2.0 megapixel camera, WiFi, VOIP, barcode reader, RFID, NFC, MSR and fingerprint reader. The slim, fanless all-in-one system, powered by an Intel® Atom™ or Intel® Core™ i7 processor, Advantech says is ideal for retail, exhibition hall, education/campus, vending, self-service and kiosk applications. The original use for the range was promoted as bedside terminals for entertainment use by the patient, and medical use by staff.
The availability of Android 4.0 is the first for Advantech and, we are told, the first in the industry. Android 4.0 is more stable, runs faster, and offers a number of enhancements which are now available to the HIT-W181 infotainment terminal.
Android 4.0 has a number of new features. It has replaced hardware/programmable buttons with a set of virtual keys, allowing quick and easy application development. Additionally, Android 4.0 brings native NFC (near field communications) support which will appeal to transaction-based applications that need reliable communications between handset and the HIT-W181 display. Security in Android 4.0 has also been greatly improved. The system supports face recognition coupled with auto-login for simple and secure authentication.
HIT-W181 is able to take advantage of improvements in stability and speed that are a part of Android 4.0. System speed is 30% faster than under Android 2.3 and operating system stability has been enhanced giving the platform the stability needed to serve critical applications. Memory management under Android 4.0 has also been improved with better memory allocation and deallocation of tasks running on the system. The result is that HIT-W181 runs leaner and faster.
Advantech will continue to rollout support of Android 4.0 for its other HIT series: the HIT-W221, HIT-W151 and HIT-W121.