Gail Chiasson, North American Editor
New York-based Access 360 Media, place-based media company, has signed an agreement to represent the College Gametime Network to its growing list of national sports advertisers.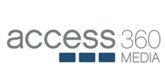 CGN operates the in-venue TV system in over 30 of the nation's top colleges and universities. Among the CGN partner schools to date are: Arizona, Georgia, Kansas, Kentucky, Tennessee, and Syracuse.
This, of course, is in addition to the professional baseball, football, basketball and hockey venues already handled by Access 360 Media.

"This provides a bigger platform for advertisers," says Dennis Roche, president, Access 360 Media. "In addition to the video (sound and motion) in the concourses, we have the opportunity for other things like experiential media, the Jumbotrons, and other possibilities. The fans like it; advertisers like it. We have the opportunity to bring in product launches and campaigns that the colleges' own sales staffs can't do.
"We're adding real estate and driving new capabilities on the venues. And this is the first of several initiatives that we'll be announcing over the next four-to-eight weeks."
The CGN Network blends the live game feed with personalized content such as in-game stat updates, out-of-town scoreboard, school messaging, twitter updates, team/school trivia and more.
The network consists of more than 7,000 screens across its existing platform. CGN has been expanding rapidly and expects to install the in-venue TV system in 10 additional partner schools for the start of the 2012/13 school year. Today, CGN's partner schools deliver over 15 million college sports fans annually.
The deal will cover ad representation for both college football and basketball venues within the CGN Network.

"The addition of college sports is a natural extension of our proven model with AMNtv in professional sports," says Roche. "CGN has built a great platform in college sports and its network delivers a passionate, affluent, highly engaged audience."
"We are thrilled to be working with the Access team as they extend their expertise in selling the excitement of live sports to national advertisers," says David Van Epps, COO of CGN. "Access 360 is a logical partner for us to be working with, their combined platforms of professional sports venues and malls is extremely attractive to advertisers and we looking forward to doing great things together."
With more than 20,000 screens in over 100 locations, Access 360 has the potential to reach more than 54 million viewers each month. The company is owned by Mission Ventures and Columbia Capital.
College Gametime Network is the only digital out of home TV network developed for college football stadiums and basketball arenas. Installed at major universities including the University of Arizona, Boston College, the University of Kentucky, Syracuse University and many others, CGN will reach over 15,000,000 college football and basketball fans at over 1000 games for the 2012/2013 season. CGN is a subsidiary of Charlotte, NC based 10 Foot Wave LLC.