Adrian J Cotterill, Editor-in-Chief
In a cortege that must have used more fuel than a Red Arrows performance over the Farnborough Air Show (more on that on our visit there later this week) Digital Signage of a sort (and a streaker) came to Henley-on-Thames early this morning.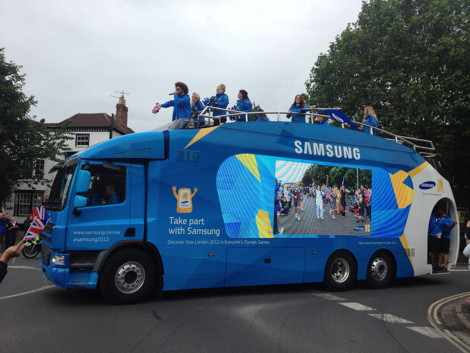 The Olympic Torch plus assorted sponsors' trucks and buses (Samsung, Coca-Cola, Lloyds-TSB and a big yellow one), at least twenty brand new BMW Police Motorcycles, dozens of associated BMW cars, two cyclists and one runner carrying aloft a shiny flaming torch came to town (oh and the ersatz Air Ambulance; read Police Helicopter, flying overhead of course).
If you don't count the police outriders and the sole cyclist who sped past, the cortege was led by the Samsung lorry (shown above) complete with neat LED on the side.
Said LED was relaying pictures from another bus further down the road / cortege which was ahead of the torch bearer which meant that ahead of the procession the crowds lining the street could see what was coming!
Despite all the gas guzzling it was actually quite clever – especially as the runner came past and was gone in 10 seconds in a sea of faces!