Gail Chiasson, North American Editor
Gas Station TV is today launching a new positioning with the branding line 'Driving Consumers', that focuses squarely on GSTV's ability to deliver the critical hard to reach, on-the-go consumer.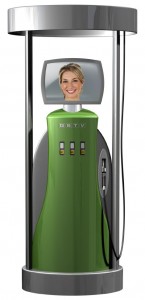 GSTV's original positioning was 'It's always primetime at the pump', but after working with advertising and gas retailer clients for the last six years, and conducting numerous research studies, "We frankly learned we were not doing our brand justice by limiting ourselves to a simple comparison against primetime television," says David Leider, CEO, GSTV.
The star of the new campaign is a virtual salesperson – the GSTV Sales Pump – who embodies the spirit of the brand. The icon serves to personify how GSTV effectively engages, influences, and drives consumers to action for advertisers, as well as the gas stations carrying the network.
"Our previous positioning was very TV network-centric, but having grown in our relationships with our advertising and gas retailer clients in the past six years, expanded our network offerings, and conducted numerous research studies, we realized that we were not doing the brand justice by limiting ourselves to a simple comparison to one medium and not highlighting the network's overall benefits," says Leider.
"With 'Driving Consumers', we speak directly to our ability to influence consumers to action. An added benefit is that the new theme also speaks to the 100% driver make-up of our audience – a tremendous benefit for many of our advertisers".
"Our partners and research have demonstrated that our network has the ability to drive consumers to take specific actions like heading into the C-Store or driving to a nearby auto dealership to purchase products and services, promoted on our screens," says Leider. "According to our research, stations can realize up to a 78% sales lift for the products they promote on our screens".
A recent inclusion in standardized agency planning tools also strongly influenced the branding initiative. GSTV – which is gaining momentum as a standard component of the traditional marketing mix for advertisers looking to reach on-the-go consumers – recently rolled out an audience planning tool which allows advertisers to view the advantages and value of GSTV in direct comparison to other media.
Working in conjunction with Nielsen Media Research, through its Interactive Market Systems (IMS) division, GSTV developed a model for IMS Clear Decisions using MRI gas purchase behavior data and Nielsen GSTV audience data. GSTV was the first network in the gas space to partner with Nielsen on overall audience measurement. Its new IMS tool is an evolution of the network's commitment to providing advertisers with robust planning tools.
"As the recognized leader in gas video media and one of the premier digital out-of-home networks, it is only natural to include our network data in the tools instrumental for the planning community," says Leider. "GSTV is rapidly becoming a key component to many advertisers' traditional marketing plans, and readily availing our data to them is instrumental to our network to sustaining momentum in the industry."
Other key contributing factors in GSTV's move to the more action-oriented 'Driving Consumers' branding is its success with the new **GSTV (**4788) mobile platform and recent custom content programs it has done on behalf of advertisers – most notably a recent integration created for Chevy with local AccuWeather reports appearing on the network.
The new Sales Pump is making her debut on GSTV's re-energized website.