Gail Chiasson, North American Editor
Sneaky Pete's, a franchise operation headquartered in Vestavia Hills, Alabama, and focused on hot dogs since its founding in 1966, has selected Highlands Digital Media, Hoover, Alabama. provider of digital menuboards, digital retail signage solutions, and digital place-based advertising networks, to roll out a digital menuboard solution for its newest franchise in Margaret, Alabama.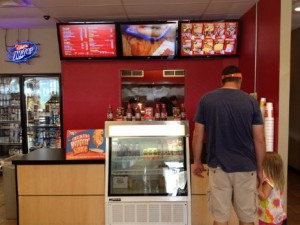 Working together will be Rusty Creel, the franchise operator, Sneaky Pete's, and Birmingham, Alabama-based Means Advertising (Sneaky Pete's advertising agency) in the design, development, deployment, and management of the digital menuboards.
The goal is to build a platform that will allow Sneaky Pete's to showcase its menu items and combos with great food shots and video. Having video of Sneaky Pete's food on a large screen at the point of ordering is considered the best possible way to drive sales.
The video menuboards will allow the restaurant the ability to have a completely different look for breakfast and for lunch, giving maximum design flexibility. Hoghlands uses BroadSign software.
"We believe this project will be a showcase for the Sneaky Pete's brand," says Chuck Adams, vice-president of DOOH solutions for Highland Digital Media.
Adams is one of the owners of Highlands, founded in 2009. The company also has a publishing arm focused on trade journals.
"We offer digital menu boards, digital signage in retail locations and in-store," says Adams. "We also have a third party agreement so have 70 screens offering HDMTV with sports and lifestyle content in health centres, doctors' offices, casual dining establishments and restaurants."