Adrian J Cotterill, Editor-in-Chief
Panasonic is using Ocean Outdoor's landmark Two Towers East to broadcast exclusive content from the London 2012 Games to showcase its status as an Official Olympic Partner in the Audio Video Category.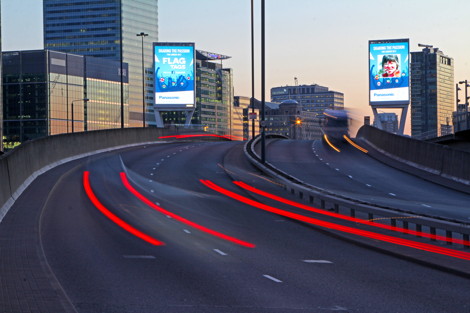 Panasonic is using dynamic copy change to feature iconic action images from the sports spectacular on the Two Towers East – the Two Towers is displaying photographs capturing key moments from London 2012, provided by Official Olympic Photographer Getty Images using Panasonic's LUMIX G cameras.
In between, Panasonic features portraits from its Flag Tags Facebook and mobile app campaign which invites people to show support for their country by virtually painting their faces in their national team colours.
The campaign promotes Panasonic's LUMIX G, Official Cameras of London 2012, and Smart VIERA, Official Television of London 2012. Booked through Posterscope, planned by Vizeum with creative by Brave, this innovative campaign runs for a four week period.
Panasonic UK Advertising and Sponsorship Manager David Bonney told us "Using a premium digital outdoor canvas to reproduce the content we are creating online and via mobile, interspersed with memorable images taken during the Games, is an innovative way for us to be able to showcase what our combined smart technologies can deliver."
Launched late last year, the Two Towers East are located on Aspen Way, dominating the gateway to Canary Wharf and the main Olympic village.