Adrian J Cotterill, Editor-in-Chief
The Digital Signage Federation, the only independent not-for-profit trade organization serving the digital signage industry, announced this week that end-users and industry suppliers have begun to sign on to support the DSF standards policy represented by the organization's Seal of Professional Excellence.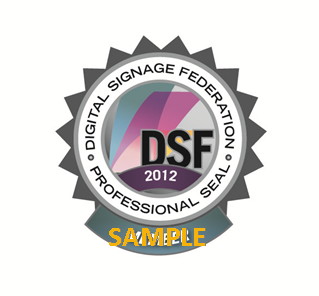 Derived from the Privacy Standards that were developed by the Standards Committee and adopted by the organization in late 2011, the Seal of Professional Excellence is a tangible designation for organizations that have committed to support and adhere to the DSF's Professional Standards.
The seal is intended to be a graphic symbol synonymous with excellence in professional conduct and integrity within the digital signage industry.
Ian Stone, President & Chief Experience Office for Respario, LP, who co-Chairs the DSF's Standards Committee told us "Companies are now adopting the DSF's Seal of Professional Excellence because it just makes sense to publicly support ethical business practices." He added, "Even when organizations already have a codified vetting process, it's easier and more reassuring to be able to readily recognize and gives an edge to those who have promised to deal fairly and professionally."
Companies who have signed the DSF pledge and support the program include: Brawn Consulting, BroadSign International, Care Media Holding Corp., FastSigns International, Real Digital Media, Respario, LP, Saddle Ranch Digital, Starcom Worldwide, and Wendy's International.
More information on DSF's Seal of Professional Excellence can be found on the DSF website here.