The BBC and NHK have been showing SUPER Hi-VISION Olympics games footage at three locations in the UK, two more in Japan and one in Washington DC, USA. This is the latest demonstration of the highest definition TV format developed so far by the Japanese broadcaster NHK.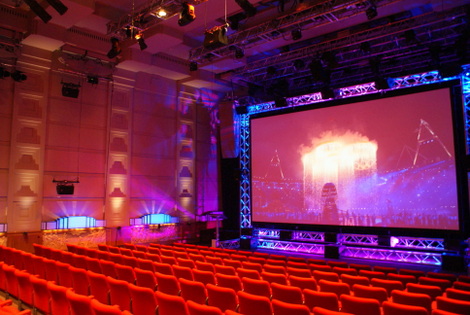 The London 2012 Olympics opening ceremony was shown live at these venues, and selected events have been shown since. As there are only currently 3 cameras in the world, they had to be selective of which events to cover.
The image size is 8k (7680 x 4320 pixels) which is double that of 4k cinema (which itself  is double that of normal HD TV) at 60 frames per second, the resultant images being 33 mega-pixels in size. The sound system is described as 22.2 surround sound, ie speakers all around the viewer, with some at different heights as well as being behind and to the sides.
Its first international technology demonstration was actually shown four years ago at IBC in Amsterdam, but this is the first time they have they have shown a full production process at a major event, with both live and recorded footage from the venues being edited and distributed from temporary facilities set up in London. With even the compressed data rate being 350Mbit/s, they needed to team up with some big networking providers to shift this around, as well as with OBS (Olympic Broadcasting Services – the official games broadcast provider).
We saw an hour long package of the opening ceremony highlights together with some swimming and basketball in the BBC Radio Theatre in Broadcasting House, the BBC's iconic central London headquarters.
The 250″ front-projected screen in the fairly small venue meant that the experience was pretty immersive, with the pictures being deliberately wider shots of the action. This allowed the viewers to concentrate on the area of the action they wanted to, but with such a high resolution, the whole picture was sharp and you could see a huge amounts of detail.
We wondered as we looked at Sharp's prototype 8k 85 inch LCD screen on display at #CES2012 in Las Vegas last January quite where you would get filmed material to actually show on it to do it proper justice. Well this will be it, although the broadcasters don't see this technology becoming mainstream (or affordable) for at least 10 years.
NHK have a history of pioneering HD formats. For those with long memories, they developed the first high definition 1,125 line TV back in the 1980s, this was CRT based and analogue rather than digital in those days of course. The current 1080p HD standard was partly devrived from that early format.
It's interesting to see this in the context of multi-megapixel displays we are seeing increasingly seeing deployed in the form of video wall arrays, and large screen canvases now possible using technology such as Christie's MicroTiles and Hiperwall. Content production for these displays still remains a considerable challenge.
The word is that the Olympics footage will also be shown at #IBC12 in September, where SUPER Hi-VISION will be on show again after creating considerable interest at last year's show.