Gail Chiasson, North American Editor
After learning a while ago that there was Wi-Fi going up in a few curb side telephone kiosks in New York, we now hear the tests – to last between six months and a year – have been going very well.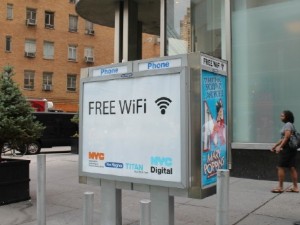 Both Van Wagner Kiosk Advertising Inc. and Titan, the advertising companies that work to provide the ads on the phone kiosks, are testing the service for New York's Department of Information Technology and Telecommunications.
Both companies are testing at least three phone kiosks each in Manhattan with others either already in or expected to go into Queens, Staten Island, the Bronx and Brooklyn.
"Our goal is to blanket all five boroughs with Wi-Fi," Pete Izzo, senior operations executive, Van Wagner, told us. "It would change the business environment of the city and serve all its citizens. You know, even in today's world, there are 28 million calls still made from pay phones in New York."
And, as Izzo told us, the beta test is just "the tip of the iceberg." Van Wagner alone owns 4,200 of New York's 10,900 curb side phones, with the rest handled by Titan.
It's no easy job to put in the new services. Conduits had to be built to the communications providers and power companies. And the two companies testing the Wi-Fi incurred all costs for the technology involved themselves.
Further, they are tracking to map user demand, and it's looking good. In June, eg., Van Wagner tracked 24,000 minutes of use from seven locations. For July, eight test sites logged 65,252 minutes of use by 1,572 different users. and for just the first 12 days of August, 44,000 minutes have been noted.
"The city wants this solution," says Don Allman, president and CEO, Titan. It follows New York's plans to be known as the world's leading digital city. Several New York parks already have Wi-Fi in partnership with AT&T.
The wireless capabilities don't replace the actual pay phones. However, the wireless signal of the phone booths spans a 100'-to-200' radius and the network appears as Free WiFi or NYC Free Public WiFi on cell phones, laptops, tablets, and other WiFi devices.
The network isn't password protected, but when users launch their browser, they must agree to terms and conditions before surfing the web. The city and the partners have taken all security measures possible. Users can visit any site on the Internet with no limit on usage.
There is no advertising on the kiosks (or wasn't at last report), but we are told that there is interest by potential sponsors.
"And we can't have digital screens on the panels at this time, but hope to be able to have them in the future," said Izzo.