Adrian J Cotterill, Editor-in-Chief
We heard recently, on very good authority I might add, that Lamar Advertising (LAMR.OQ) was preparing to convert itself to a REIT – a real estate investment trust and recently received research from Deutsche Bank seems to strongly support those rumours.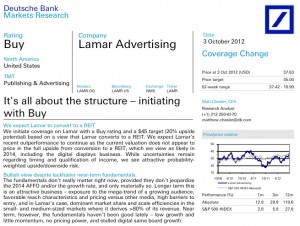 A 30 page initiation note on Lamar written by Matthew Chesler, Deutsche Bank – Equity Research – North America kicks off with the heading 'We expect Lamar to convert to a REIT'.
It continues "We initiate coverage on Lamar with a Buy rating and a $45 target (20% upside potential) based on a view that Lamar converts to a REIT".
It continues "We expect Lamar's recent outperformance to continue as the current valuation does not appear to price in the full upside from conversion to a REIT, which we view as likely in 2014, including the digital displays business".
Deutsche Bank see Lamar as an attractive business with a dominant market share and scale efficiencies in the small and medium-sized markets where it derives greater than 80% of its revenue – it also adds that it has "exposure to the mega-trend of a growing audience, favorable reach characteristics and pricing versus other media"