Gail Chiasson, North American Editor
The Wall Street Journal Office Network has unveiled WSJON2.0, a system-wide upgrade designed to increase the impact and effectiveness of ads on the network while it improves viewer engagement.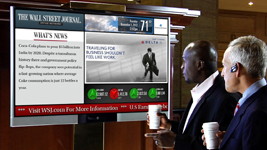 New features include bolder, easier-to-read graphics top to bottom; Internet Advertising Bureau standard ad units; impactful new applications and banner ads to make advertising work harder; and integration with digital media planning, buying and ad-serving systems.
WSJON2.0 will be rolled out on November 5 across WSJON's network of digital screens in more than 760 premier office buildings across the U.S., serving a daily audience of nearly 1 million affluent, business professionals.
WSJON2.0 offers bigger, bolder ad units, and flexibility to execute interactive ideas and campaigns. Further, using ads which meet IAB specifications makes it easier for marketers to re-purpose creative campaigns from other digital channels. The units include standard banner and display ads, digital video ads and digital application headers.
"In addition to being preferred by our viewers, WSJON2.0 delivers increased advertising impact with stronger ad recall," says Jim Harris, CEO of The Wall Street Journal Office Network. "The flexibility of the WSJON2.0 platform lets advertisers make their most innovative digital ideas come alive."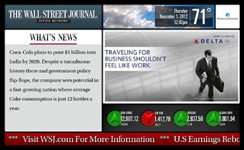 Additionally, WSJON's audience and performance metrics can now be accessed within the Nielsen IMS Clear Decisions system. Matched with the GfK MRI Doublebase, the widely used consumer research database, WSJON's audience has the highest household income among such leading news and business networks as CNN and CNBC, and print publications like Fortune and Forbes in the top 10 DMAs.
In a further enhancement, WSJON has partnered with New York-based Vistar MEedia to test the firm's digital place-based ad serving technology. Vistar Media also operates the first programmatic platform designed for buyers and sellers of digital place-based media.
"The year 2013 will represent a new era for digital place-based media," says Harris. "Audience and performance metrics, along with technology linkinbuyers and sellers, will enable it to be planned, bought and sold like all other digital ad platforms."