Gail Chiasson, North American Editor
No digital boards but smart phone screens, QR codes and Newad's classic boards and big backlits are combined in a national contest using Near Field Communications to promote the popular show Gossip Girl, which airs every Monday night on MuchMusic in Canada.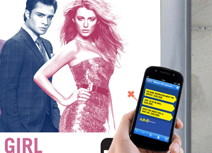 Advil, MuchMusic and media agency MEC are using Newad's NFC technology for a new advertising campaign centered around the contest.
The eight-week campaign is deployed in colleges and universities of Newad's Campus Network in Toronto, Edmonton, Calgary, Vancouver, Winnipeg, Regina, Charlottetown and Halifax.
Canadian students can use their NFC-enabled Smartphone to interact with the Advil campaign for a chance to win a trip to New York and Los Angeles, or one of the 10 weekly prizes of a $500 value. Students will also be able to get Advil product discount coupons, participate in live chats or get answers to their questions.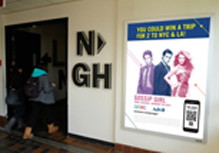 The NFC wireless communication system allows users to make mobile payments or transactions by simply bringing their mobile phone close to the transmitter, in this case indoor advertising, which interacts directly with the device.
"For more than two years, Newad has consolidated its expertise to provide optimal solutions to advertisers using NFC technology," says Jerrid Grimm, vice-president, client service, and regional manager – Western Canada. "Our objective remains to bring our campaigns in line with the lifestyle of our consumers, the Young & Affluent, who are more enthusiast users of smart technologies and devices than the average Canadian."