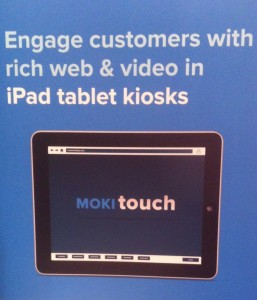 We spoke recently with MokiMobilty's CMO Brad Hintze where we learned of the new features of MokiTouch and MokiManage that leverage iOS6 to create the ultimate iPad kiosk.
MokiManage is a web platform with iOS & Android apps called MokiTouch, where brands can remotely configure, manage and update touchscreen tablets from any browser.
CMO of MokiMobility, Brad Hintze said that "MokiMobility really fits in at the convergence between mobile technology, provided by either the brand or the retail vendor and traditional digital signage. We think it's great opportunity for a brand or a retail store to engage with consumers in a new way that is very economical."
Inspired by the popularity of the interactivity that iPads and Android tablets offer, MokiMobility has developed a very simple and easy to use web based solution that brands and retailers can use to control the content and functionality of retail kiosks in stores or in the hands of sales people and brand ambassadors.
"Most people have a website that they can display using MokiTouch and many brands or retail stores already have an eCommerce website that they can easily plug into MokiManage and display their eCommerce website throughout their stores to take in-store orders for products that they may not have in-stock." says Mr. Hintze
With MokiTouch you can display any web based content, create custom buttons, limit browsing content, loop videos and images, create video, image or html screen savers and accept credit cards utilizing existing online stores all while monitoring traffic with Google Analytics.
"With our integrated credit card swipe, a customer can come in a store and find a product that they are looking for, order them then pay for them right there to have them shipped instead of the retailer losing that customer to another retailer or having the customer go home and go shop online with another website. It also introduces the customer to the retailer's eCommerce website so that they know that next time they can come back to that retailers website." added Mr Hintze.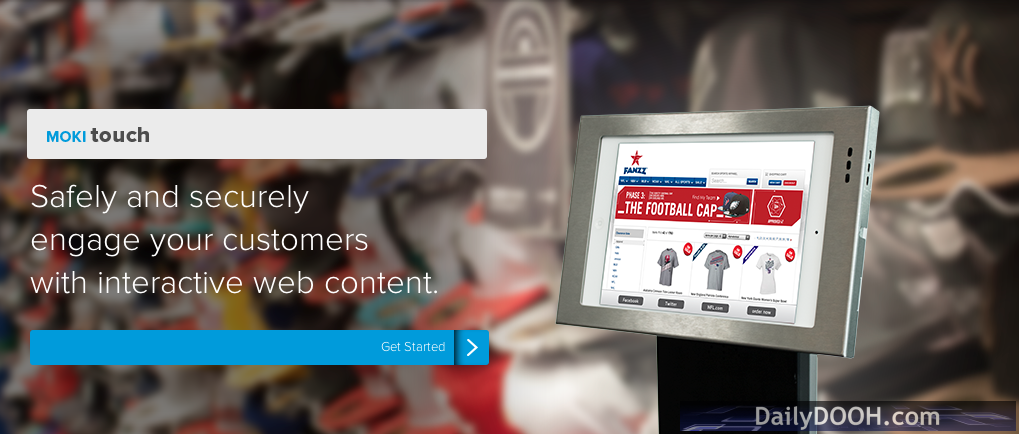 MokiTouch is available in the App Store as iOS or Android apps for free and MokiTouch Pro apps for both are just $.99 each.
When you sign up for a MokiManage account, the platform allows you to remotely manage all your MokiTouch kiosk settings all in one place giving you complete control over each individual device and all it's MokiTouch settings.
Subscription plans for MokiManage start at $35 per month which allows control of up to 5 tablets or kiosks.
About MokiMobility

Based in Lehi, Utah, MokiMobility is the creator of the MokiManage platform enabling complete tablet and mobile device solutions that include app management, app distribution and device management. As a result, developers have greater control over the complete experience, enabling more engaging and new customer experiences leveraging iOS and Android tablets in new ways.