At this week's Press Preview for the 2013 International CES Conference presenters revealed that for the first time shipments of consumer 60″ LCD screens and larger have exceeded shipments for 20″ LCD screens and under.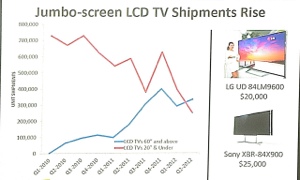 This is surely a continuing indication of the decreasing cost of LCD technology and it's certainly great news for digital signage network owners.
According to statistics provided by CEA, shipments of LCD screens that are 60″ or larger have surpassed 300,000+ units in Q2 of 2012 in comparison to shipments of 20″ LCD screens or smaller fell closer to 200,000 units.
The presentation highlighted two models, the LG UD 84L9600 & Sony's XBR-84900 which retailed for $20,000 & $25,000 respectively.
Impressive as these two huge consumer models might seem, what looks to be the most important is the price points that make such large LCDs more affordable and the significant increase of shipments of LCDs that are 60″ and larger.
Whilst I personally look forward to seeing larger digital LCD screens installed during 2013 what I really hope for is better content and more interesting DOOH activations that take advantage of them.