Adrian J Cotterill, Editor-in-Chief
There are some things that you can only experience at events, shows and conferences (audio systems and sound showers for example) or in an actual live environment and MegaPhone is absolutely one of those things that just needs to be experienced.
We saw them last year in Berlin AND they were able to engage the entire audience with their mobile phone games – strange to see, otherwise serious adults yelling into their cell / mobile phones in order to create a (graphics) column get as high as possible on a projection screen!!!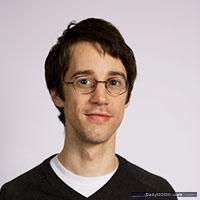 It's great news then that Dan and Jury from MegaPhone have agreed to present at the ISE DOOH Business Conference in Amsterdam in just over a weeks time.
This is a late adjustment to the programme but it's a great one!!
The conference itself is nearly at capacity and we have seen a flurry of late bookings this week. It's probably not too late to try and attend so please do – it's definitely going to be a great conference to start the year off with!
Now about those mugshots – surely nothing says "the hum of the server rack in the NYC studio flat helps you fall asleep at 4am" better than those pictures!!!