Gail Chiasson, North American Editor
Condé Nast Traveler, one of the most trusted names in travel, is providing exclusive holiday content across the New York-based Adspace Digital Mall Network.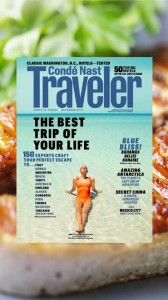 The Adspace creative team has brought the pages of the magazine to life in 207 malls nationwide. Eimear Lynch, Condé Nast Traveler's Word of Mouth, is featured speaking to shoppers about some of the most luxurious winter destinations covered in the December issue. The three featured locales include the St. Regis Resort in Aspen, Colorado; Golden Eye Resort in Jamaica and Mexico City, Mexico.
This marks the latest Condé Nast book to provide customized content targeted directly to mall shoppers. Last year, Adspace Networks announced a partnership with Condé Nast's Lucky Magazine, which focuses on shopping and style. The Lucky Magazine content includes fashion tips from the style contributor, Lori Bergamotto, as well as behind-the-scenes video from cover shoots.
"Like Lucky Magazine, Condé Nast Traveler's content is of tremendous interest to our audience," says Bill Ketcham, Adspace executive vice-president and CMO. "According to MRI, Adspace shoppers index 159 versus all adults spending $3,000 or more on a vacation in the past year, so this program will further enhance shoppers' engagement with our Smart Screens."