Adrian J Cotterill, Editor-in-Chief
You have to wonder just how worse it can get for Wireless Ronin Technologies Inc. (RNIN).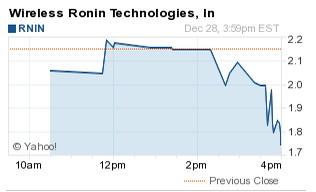 Despite the 1-for-5 reverse stock split in order to meet the minimum bid requirement to stay listed on NASDAQ, made at the tail end of November, the stock has continued to tumble.
On 17th December when the new share structure took effect, it immediately shed 20% of its value (closing that day at USD 1.77, equivalent to 37 cents pre-split).
Although there was a small rise in the days after, last Friday was another really bad day for them with the stock down 15% and closing at USD 1.82.
Would anyone like to bet how quickly it once again falls below the dollar mark?