Gail Chiasson, North American Editor
In 2012, Ocean Outdoor, London, offered internships to four enthusiastic young people, with the idea of hiring two of them when their internships were complete.
"All four excelled and we offered four positions," says Richard Malton, marketing director. "All are fantastic additions to the company."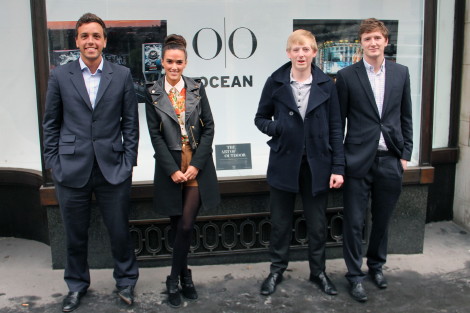 The four are: Ed Lumley, sales executive; Frankie Edwards, junior designer; Tom Priston, operations executive; Tom Ballantine, development executive, seen above left-to-right in the same order. We asked all four to answer our set of questions and all had great answers. Space precludes that we print all their answers but we chose some from each.
Describe your personal work space.

Edwards: Quite a tidy desk with a lovely big Mac. I also have my own phone that sits next to it, which makes me feel important but it never rings – perhaps apart from when our executive assistant needs to know something vital such as what I'd like from the Ocean Christmas party dinner menu choice. On the wall, I've got a rosette for coming first in the Ocean pub quiz, an American dollar which I can't remember why I have it, and post-it notes which I can't live without!

Lumley: It's not exactly the neatest desk at Ocean! I'm a serious collector of bits and bobs from shoelaces, coins from different continents even though I haven't been there, and booking confirmations dating back to February! I've created my own little IMAX banner site with mini Kellogg's cereal packs under my dusty PC! You will, without fail, always find my favourite Heinz Mayonnaise sitting on my desk, which I literally have with everything.

How do you get to work?

Priston: The good old tube. I used to ride my motorbike to work but two very good reasons have stopped me doing that; I can't have a beer after work, and my bike was recently stolen!
What is an average day like?

Lumley: Sit down with a takeaway coffee from my favourite little Italian coffee shop, La Bottega. I then have a quick browse on BBC Sport whilst eating a bowl of porridge. Once fuelled up with caffeine and Ready Brek, my brain begins to engage into my role as a sales executive. This involves working alongside an experienced, vibrant, fun and award winning sales team. I provide the Ocean sales extensive support on a daily basis, allowing the Ocean team further flexibility to maintain and develop client relationships. Whilst my primary role is to support our growing team, my role at Ocean gives me the flexibility to sell, present and develop my own relationships with many young executives from outdoor specialists and agencies.
What is essential to you being able to work happily?

Lumley:

Firstly, don't anger the big angry bear (Ocean's sales director!) On a serious note though, it would be staying calm, having a good sense of humour and making the most out of anything that is thrown at me.

Edwards: If I manage to not piss off any of sales or my head designer and the rest of my department then I can work happily. If someone doesn't heat up their amazingly aromatic dinner from the night before in the microwave that sits behind me before lunch, and whilst I'm working, then I'm also happy. If I get a really interesting creative brief from one of the sales guys (which almost always happens) is probably the main one!

How flexible are your working conditions?

Priston: You create your own working conditions, in truth. Ocean lets you run your own little part of the company and it will provide everything you need as long as you get the job done.

Ballantine: Very. Our development team covers not only London but the whole of the UK so on any given day my working location could be anywhere within the UK, dependent on the advertising opportunities. It's this flexibility which I find so refreshing and exciting.
What do you think your employer looks for in its staff?

Lumley: A team player with a good sense of humour who is going to jump onboard the Ocean voyage; whist making sure they are doing something to make sure the boat goes faster!

Ballantine: Someone who is not only an element of drive, motivation and expertise to the team but most importantly, someone who fits into the culture of the company.

What suggestions do you have for your company?

Lumley: I would love to see Ocean repeat the intern scheme in the future. Since completing my Internship at Ocean, I'd challenge any graduate who ignores the value of an internship. If you utilize the opportunities given to you, there is no better way to start your career. I feel I've become wiser, more mature, more confident since being at Ocean, and the internship has given me a solid understanding of how a DOOH business works.

Do you have any frustrations you would like to share with us?

Priston: Frustrations are dealt with quickly at Ocean. We are a family and if somebody annoys you, you tell them! Any factors that contribute to derogating working conditions are swiftly dealt with by management.

Ballantine: My boss has never made me a coffee.

What do you like best about your job?

Edwards: I think it's the opportunities that I get to be able to work on exciting briefs for a variety of brands. I love the occasional funny ones. They always make my day. The other thing is being able to sit next to a head designer who's got the patience of a saint. He's really supportive, has taught me a lot, and he strangely seems to know everything, even if it's not to do with design! He's a bit like an Encyclopedia.

Lumley: The opportunities I've been given with the job at Ocean. The company recently sent myself and the three other interns on the industry renowned 'Media Business Course' led by the Advertising Association. During the four days, I worked on a live brief for the new BMW i (electric car) for BMW's commercial director. The course taught me about the increasingly vital and complex nature of media planning. It also enabled me to gain a unique 'client-side' perspective on the dynamics of problem solving and planning. In short, it taught me the value of questions, ideas and integration, and I would strongly encourage everyone in media to attend.

Ballantine: I find it very rewarding being able to offer landlords an extra income stream they may not necessarily know was available to them through outdoor advertising opportunities. During these times of economic austerity, it's nice to be able to assist landlords in getting as much return as they can from their assets.

How open is your company to new ideas and suggestions?

Ballantine: Very! There are not many companies of our size where an intern/ex-intern can happily/nervously make suggestions and comments in company meetings. Also, it may seem obvious, but having an open plan office really allows ideas to flow around. For example, I am an intern and I work three metres away from our CEO Tim Bleakley.

Lumley: Ocean is seriously enthusiastic about new ideas and suggestions. As a company we're always looking to push the barriers when it comes to new ideas for DOOH. A great example of this would be Ocean recently running a digital outdoor competition in association with Brand Republic encouraging brands and agencies to push into new territories using new technologies on our digital sites.
How much responsibility have you been given?

Edwards: Quite a lot. My main job is to support the sales team with mockups. It's my job to illustrate innovative ideas for them and their clients. I've succeeded with some of my designs towards making sales which i'm really proud of, but it has made me realize how important my role is and, considering how little i knew at the beginning of my internship, my company has been very brave by giving me this responsibility.

Priston: Lots. During my first few weeks I felt like I had snuck into the RAF during World War II and started dog-fighting the Luftwaffe in my Spitfire with no previous flying experience. Things have calmed down since and luckily there are plenty of industry experts sitting around you ready to help, and I still have my own Spitfire.

How green are you and your company?

Priston: All of our screens and hardware have been chosen because of their high quality and high efficiency ratings. We have basically installed every energy saving device available. We also only use suppliers with recognised Green credentials.
What inspires you?

Priston: Other people. People with great ambition and vision that formulate plans and use their skill and determination to realise them. People that want to be extraordinary. These people can be hard to find so when I meet somebody like that, I listen.

Edwards: Other artists, whether it be graphic design or illustration. I'm always on creative blogs and go on behance.net to give me some ideas. I draw myself and I'm always sketching, but it's always inspiring to see other artists work and techniques. I always get so jealous of other amazing artists and graphic designers, but it only inspires me more and makes me more determined to be better!

What are your ambitions?

Priston: I have wandered into an industry that I love, where I want to make an impact. I want to be the best that I can be, meet people, and progress the industry forwards if I can. Or I would like to be a professional motorcycle racer!
If you could change only one thing, what would it be?

Edwards: I'd change where I live. Having to ring my boss to tell him that i'll be late because some chavs in Bedford decided to steal the cables from the train tracks isn't the greatest start to a Monday morning. This and delayed trains is the thing I could definitely do without.

Ballantine: I would expand our search for new sites to The Caribbean! 😉

Lumley: I would expand Ocean to New York, Australia and South Africa!

How much time do you devote to social networking?

Priston: Quite a bit. I enjoy Twitter and I browse it because it's interesting and informative. I am at the stage with Facebook where I browse it because I feel I should; it's like calling your Mother.

Edwards: Facebook is an obvious one but Instagram is what I spend most of my time on. I'd like to say Twitter but I think I'm the only 23-year-old that isn't on it! I've never got the hang of it, but I'm planning to change that and get myself on it, as well as LinkedIn.

What are your most useful tools you use to do your job?

Ballantine: Google Earth, without a shadow of a doubt! Being able to check a potential site without having to go and visit it is the biggest time saver of them all, I don't know how we ever coped without it!

Edwards: Photoshop is definitely the main one. InDesign, sometimes, and I'm starting to use After Effects, which I love because I've always wanted to learn and use animation for my work!

Priston: My notepad. There has yet to be a piece of technological advancement that can replace the pen and paper. I do also enjoy my two- monitor set-up. One of them is portrait and it annoys and baffles most people in the office!

What would be your dream job?

Ballantine: A Tennis player – I can't play. I just like their lifestyle!

Edwards: I don't really have a specific dream job, but I do know that it would have to involve illustration.

Lumley: I always wanted to be a lifeguard on Bondi Beach when I was growing up! But on a serious note I would one day love to be in a position to lead a team.

Priston: Motorcycle racer, DEFINITELY!

What makes you laugh during the work day?

Ballantine: The general banter within the development team and watching my colleagues drink the terrible cups of tea I make.

Priston: Mark Bracey's outrageous comments, John Kilfeathers arid Irish wit, Rob Hesketh's quick one-liners, Richard Malton's smooth put downs, Tim Bleaklry's ultimate wind-up's directed at Iain Chapman, Tom Ballantine's disgraceful stories, Keith Crisp's hopeless Chelsea FC delusions, Sally Butcher after a bottle of Pinot, the whole office cracks me up in fact on a daily basis.