Russ Curry, Ministry of New Media
I've been a fan of this video column ever since I came across it on the front cover of Visible Magazine at the Digital Media Forum organized by French trade Association DMAF here in Paris last November.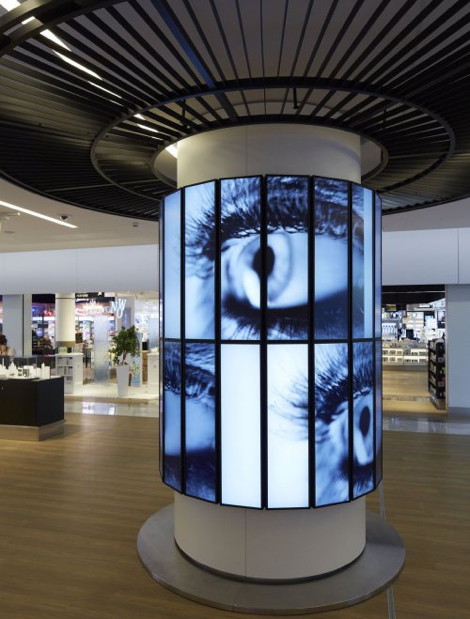 In fact its just one part of a bigger install carried out by TMM Communication at Terminal 2 Charles de Gaulle Airport in Paris. The Société de Distribution Aéroportuaire (SDA), a joint venture between Aéroports de Paris and Aelia (Lagardère Services), chose TMM Communication to implement its strategy for digital communication at Buy Paris Duty Free, the retail brand created by SDA.
The company's flagship store at Charles de Gaulle airport in Paris opened 27 March 2012 and is equipped with seven double-horizontal, ceiling-mounted screens, and a wall of screens spanning nine square meters.
The column is to be found at a second store that opened 28 June in the new departure lounge of Terminal 2E at Charles de Gaulle. It was equipped with high-impact formats: a pair of display walls covering 14 square meters apiece, and the famous column comprised of 36 synchronised screens.

TMM Communication performed the initial technical study, and then full project management, content integration and installation of the digital signage solution. The company selected BrightSign players because they offered the reliability to withstand the 24/7 nature of an airport setting, and the ability to synchronise HD video flawlessly, across multiple video walls.
"BrightSign's players deliver high-quality video content, perfectly synchronised to the 46- and 70-inch Samsung displays in massive video walls, as well as the architectural arrangement of 36 43-inch Hyundai screens situated in a circular column," commented Michel Baronnier, President of TMM Communication. "This impressive installation truly captivates the attention of travellers as they make their way through the duty-free shopping area."
Baronnier further explained, "After the successful installation at FNAC, we were confident in using BrightSign products for this innovative and incredibly high-impact installation. In addition to a quick deployment timeline, we also appreciated the players' low consumption of electricity, because you can imagine the result behind a 36-screen video wall had we used 36 400w PCs!"
All told, the stores include a combination of more than 110 BrightSign HD210 and HD1010 players in four airport store locations. Point-of-sale messaging and imagery is delivered on synchronised video walls, positioned in unique and challenging configurations throughout each store location. Advanced interactivity triggered by IR detector enables efficient and surprising signage that runs only when a person enters the area in front of the display.