Gail Chiasson, North American Editor
Michael Girgis, president and CEO, OneStop MediaGroup, Toronto, and CODA president, was first up at the Jan 27 JADN conference with his '10 Top Things to Think About'.
"Education has to happen," Girgis told the audience. "Those of us in the industry are spending 50% of our time educating. We're dealing with new products, new terminology, new skill sets and new thinking, so we have to be patient. But the power of digital communications is changing business. Digital will drive all communications. There's demand for safety and security messages, for delivery of real time information, for flexible platforms, and for a contribution to the bottom line."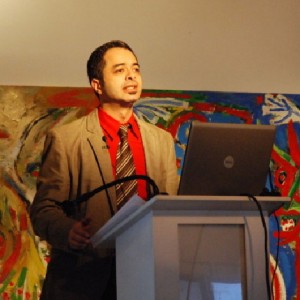 Girgis said that use of digital by arts and culture events, by Amber Alert and ChildFind Canada, and by film festivals helps get digital noticed And broadcast, recognizing that people aren't home a lot, are beginning to use it, so "we're beginning to see some broadcast brand."
But media buying is a key element, and both retail and corporate campaigns have to have vision and real objectives for media buyers to think of digital, he said. "We're still an afterthought, but more and more agencies are beginning to recognize the need.
"And it's important for the infrastructure to get their news out there, about being relevant, about their 'green' approach, and stories of what's going on in the industry.
"We're not likely to see massive growth this year, but we will see trials," Girgis said. "We need good stories and good research. Short term successes help legitimize the industry. And short term goals will evolve to long-term success."
Girgis stressed that you just can't take TV creative and figure it will work. "Advertisers of digital must understand the environment and engagement. Will it be a nine-second message or 30 seconds? Creative must have new skill sets."
A shift in budgets is underway, said Girgis. "Once companies go digital, they aren't going back. Retail is putting dollars into digital budgets, and these aren't being cut. Budgets are even coming from human resources. There's not a huge shift yet, but media budgets for digital are increasing. We're moving in the right direction. And with DOOH being the jumping off point to mobile, touch screens and other developments, digital will be mainstream."