Adrian J Cotterill, Editor-in-Chief
Perez Hilton normally writes about Hollywood A-listers (see details of the Ulmer Scale here) so if you worked in the digital out of home industry you might be rather pleased that, in passing, he devoted some time to mention your product – even if you were (already) Lord Sugar and the product in mention was your Amscreen Petrol Forecourt Network†.
Up on PerezHilton.com yesterday was a post 'Unhappy Valentine's Day: Woman Dumps BF With Billboard!!' referring to one of Amscreen's LinkLocal adverts that has now truly gone global…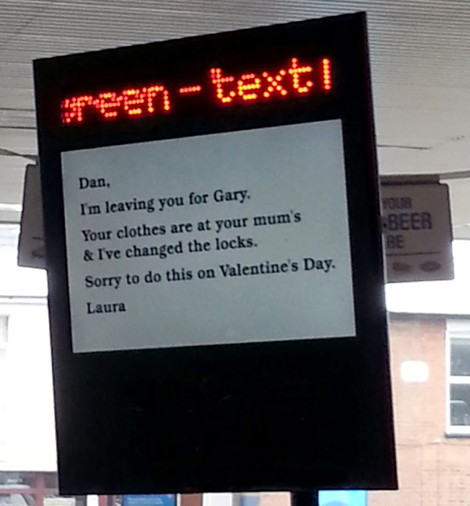 The UK's Sun newspaper originally ran the story about the lady who dumped her boyfriend via a message in an Esso petrol station via the Amscreen Petrol Forecourt network.
Google any combination of 'Amscreen' and 'Valentine' or 'Girl dumps bloke on Valentines Day' and you will see coverage as far afield as Australia, Canada and North America.
It would be hard to get much better press than this – even if you tried. It's good for Amscreen and good for the industry.
† Last year's winner, of The DailyDOOH Gala Awards: Best High Street / Supermarket / Convenience Store or Forecourt Deployments category.