Gail Chiasson, North American Editor
RMG Networks, San Francisco-based provider of provider of digital out-of-home media and technology, Has launched ChalkboxTV, a digital signage product that empowers businesses to deliver marketing messages through existing on-premise television screens.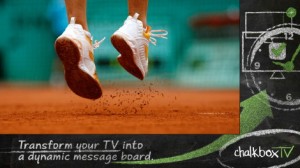 ChalkboxTV provides a powerful low-cost solution to small- and medium-sized businesses for creating and delivering relevant, localized marketing executions for activating customers in-store.
ChalkboxTV is an ideal point-of-sale marketing solution businesses can use to promote their offerings and inform customers about promotions and other offers.
It integrates seamlessly with any cable or satellite service to deliver venue-specific marketing messages alongside live television programming. Marketing executions appear as an L-shaped frame, and may be fully customized or easily created from a selection of free templates provided with the service.
The service consists of a set-top box media player connected to cloud-based software that enables single- or multi-unit businesses to display synchronized custom marketing messages on any existing television screen.
ChalkboxTV is compatible with any cable or satellite service, so no service changes are required to deploy the system.
Multiple locations can be controlled from a single interface, including custom content scheduling and playlists, so that any business can benefit from in-store digital signage.
"The introduction of ChalkboxTV shows RMG's commitment to developing technology that connects marketers with their customers when they are most receptive to messaging," says Garry McGuire, CEO, RMG Networks. "ChalkboxTV is revolutionary because it places the power of digital place-based signage technology within reach of any business. Since there is no need to invest in new equipment or switch services, it's painless for a business of any size to start delivering highly targeted marketing messages to their customers while they are on site and engaged with their brand.",
RMG plans to make ChalkboxTV available in April, 2013, through a network of dealers.