Guest Contributor, Lisa Goldstein
On March 20, The Screen will hold a special Breakfast Briefing at Kinetic's new offices to mark the unveiling of the long awaited Route, the successor to Postar.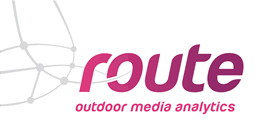 One of the most ambitious media research initiatives ever undertaken, next generation Route has taken nearly five years and GBP 19 million of support from the industry to deliver an audience measurement system that reflects the media opportunity offered by today's Out-Of-Home market.
Using GPS technology, as a compliment to the current 'eye-tracking' research, Route monitored the day-to-day movements of 28,000 people, providing ongoing real-time information on their routines, interactions and habits. This mountain of highly detailed data was then mapped to the outdoor media opportunity and updated to the industry on a quarterly basis – offering a level of accountability and targeting that has the power to revolutionise how the industry's inventory is sold and valued.
Initially announced by Ipsos Media CT in 2008, Route has also come together against the backdrop of a radically changing out-of-home landscape. In the last four years not only has out-of-home lost its traditional 'roadside' image, but its digital arm has now grown from a highly specialist segment of the market to the cornerstone of the industry and its key growth opportunity. This new audience currency has the power to step-change the perception of an industry that has adopted transport hubs, shopping malls and the high street as its preferred hunting grounds, and one where digital will soon account for 1/3rd of overall spend.
To find out how revolutionary this new audience research is, The Screen's breakfast meeting will bring together some key industry figures and get their views on how this might further drive market share for the DOOH industry; we will look at how it might affect the way digital outdoor media is planned and sold; and we will discuss how this remarkable new system will compare with what other media channels are offering and planning.
Nick Mawditt, Global Director, Marketing & Insight, Kinetic will moderate a panel that includes:-
James Whitmore; Managing Director, Route
Mungo Knott: Marketing & Insight Director, Primesight
Jamie Lindsay: Managing Director, Amscreen
Nick Baughan, Managing Director, Maxus
Location: Kinetic, 24 – 28 Bloomsbury Way, London WC1A 2PX
Date: Wednesday, 20th March 2013
Time: 8:30am – 10:30am
Cost : £90 (free to members)
To register, email me at lisa.goldstein@thescreen.org